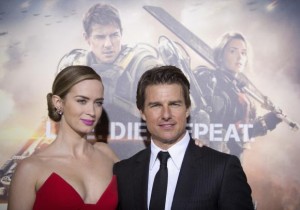 (Reuters) – "The Fault in Our Stars," a heart-wrenching love story about teens who meet in a cancer support group, won over moviegoers with a stellar $48.2 million at U.S. and Canadian theaters over the weekend, handily beating the new Tom Cruise sci-fi action film, "Edge of Tomorrow."
"Edge of Tomorrow," which cost about $175 million, had to settle for third place with $29.1 million from Friday through Sunday, according to estimates from tracking firm Rentrak.
"Maleficent," starring Angelina Jolie in Walt Disney Co's reimagining of the Sleeping Beauty fairy tale, took in $33.5 million from Friday through Sunday to finish second.
"Fault in Our Stars," produced for just $12 million, is based on John Green's best-selling novel about a girl who wheels around a portable oxygen tank as she fights metastatic cancer, and her boyfriend who lost a leg to the disease. Shailene Woodley and Ansel Elgort, who played siblings in dystopian thriller "Divergent," star as the couple. Fervent fans of the book turned the film into a social media phenomenon long before it hit theaters. The trailer was viewed more than 21 million times on YouTube, while Green, known for a YouTube video blog, tweeted to some 2.6 million followers.
"Fault in Our Stars" is the latest film to tap into a teen frenzy surrounding a best-selling book, following blockbusters like "The Hunger Games" and "Twilight."
"This far exceeded our most optimistic expectations" of just under $30 million, said Chris Aronson, president of domestic distribution for 20th Century Fox, the unit of 21st Century Fox that released the film.
With an audience that was 82 percent female and 79 percent under age 25, Aronson noted that the film was also playing well in big city, suburban and smaller markets.
"When you get to a number like this it obviously has to hit with every segment of the market," he said. The film added $17 million in international markets, Fox said.
"Edge of Tomorrow" missed forecasts for a $30 million to $32 million start, with studio projections as low as $27 million.
Cruise plays a military public relations specialist forced onto the front lines who relives the same battle over and over. Emily Blunt co-stars as a celebrated fighter in the film which won raves with an 89 percent positive rating on Rotten Tomatoes.
Distributor Warner Bros. said the movie performed well in overseas markets including China and Russia, earning a $111 million global total through Sunday.
"It was the number-one movie worldwide this weekend," said Jeff Goldstein, executive vice president for domestic distribution at Warner Bros., a unit of Time Warner Inc.
Goldstein noted that word of mouth was strong, saying "Audiences that see it just love it. We believe it's going to have long legs," and adding that its domestic box office prospects would be more clear in the coming three weekends.
In fourth place, Fox's superhero sequel "X-Men: Days of Future Past" earned $14.7 million. Seth MacFarlane comedy "A Million Ways to Die in the West," released by Comcast Corp's Universal Pictures, landed in fifth with $7.2 million.
(Reporting by Lisa Richwine and Chris Michaud; Editing by Tom Heneghan and Nick Zieminski)