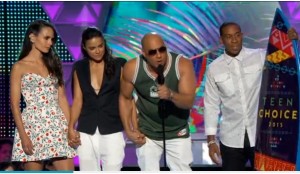 August 17 (Reuters) The Teen Choice Awards were handed out in Los Angeles on Sunday (August 16) and "Furious 7" and its star Paul Walker, who died in a 2013 car accident, were among those honored.
"Furious 7" took the award for Choice Movie: Action, and Vin Diesel honored Walker and his daughter, Meadow, in his acceptance speech.
"One of the best blessings in our lives is the fact that we got the opportunity to call Pablo brother. Paul Walker is here in spirit with us. And since this is a teen choice award, you beautiful teens, there is one teen in the audience that is a part of the family that kept us going. It's Paul Walker's family, his brothers, his parents that kept us encouraged when we were filming "Furious 7," but there's one very, very, very special teen here and her name is Meadow Walker."
"Furious 7" co-star Ludacris then presented Walker with a posthumous award for Choice Movie Actor: Action.
Other highlights of the evening included a win for Ellen DeGeneres for Choice Comedian. The talk show host encouraged teens to embrace their differences.
"I want to say also that it feels good to be chosen because there was a time in my life where I was not chosen. I was the opposite of chosen because I was different. And I think I want to make clear that everyone knows that what makes you different right now, makes you stand out later in life, so you should be proud of being different. You should be proud of who you are."
Also making an appearance was Britney Spears, who was given the Choice Style Icon Award.
"To all the teens out there watching, be fearless in your choices and don't be afraid to be yourself. Last but not least, thank you to all my fans. Your support means everything to me," said Spears.
Other winners of the night included "Hunger Games" star Josh Hutcherson, who won Choice Movie Actor: Sci-Fi / Fantasy, boy band One Direction who earned Choice Music Group: Male, and Fifth Harmony who took Choice Summer Song for their hit "Work It."