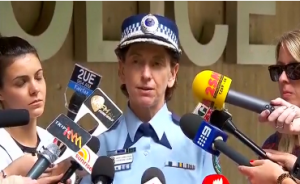 Police in Sydney launch an investigation on Tuesday (Dec 16) after three people died, including the gunman and two hostages, when officers stormed a Sydney cafe to end the siege.
Police will investigate whether the two hostages were killed by the gunman or died in the cross-fire, police said.
"Because this is a critical incident investigation, we will have close liaison with the coroner and we will be working on behalf of the coroner to make sure this investigation is done thoroughly and it is done professionally," NSW Police Deputy Commissioner Catherine Burn told reporters.
Heavily armed officers stormed the cafe early on Tuesday morning and freed terrified hostages being held there at gunpoint, in a dramatic end to a 16-hour standoff.
Investigators are now pouring over the crime scene gathering evidence, police said.
"They are now working through interviewing everybody who was involved. There are a lot of people for them to interview and a lot of people are very tired at the moment. A lot of people are very emotional. We have to consider peoples' health and their welfare and their mental health at the moment so this will take time for us to gather all the information so we can piece together, bit by bit, exactly what happened," Burn said.
Authorities have not publicly identified the gunman but a police source named him as Man Haron Monis, an Iranian refugee and self-styled sheikh known for sending hate mail to the families of Australian troops killed in Afghanistan.
He was charged last year with being an accessory to the murder of his ex-wife but had been free on bail. (Reuters)