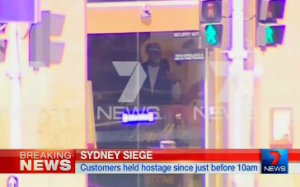 A man reported by local media to be a suspect involved in the Sydney cafe siege was caught on camera on Monday (December 15) by Australian TV channel Seven Network, Reuters reported.
Police said they knew of one armed assailant involved in the incident at the Lindt chocolate cafe in the heart of Sydney's financial district, but there could be more.
Police locked down the center of the country's biggest city on Monday after an armed man walked into a downtown Sydney cafe, took hostages and forced them to display an Islamic flag, igniting fears of a jihadist attack.
Officers cordoned off several blocks around the cafe as negotiators tried to defuse one of the biggest security scares in Australia for decades. Snipers and a SWAT team took up positions around the cafe and police helicopters flew overhead.
At least five hostages had been released or escaped since the mid-morning siege began, with panicked cafe workers and customers seen running into the arms of armed police.
Prime Minister Tony Abbott, who has warned of militant plans to strike Australian targets, said there were indications the hostage-taking was politically motivated.
Australia, a staunch ally of the United States and its escalating action against the Islamic State inSyria and Iraq, is on high alert for attacks by home-grown militants returning from fighting in theMiddle East.
News footage showed hostages holding up a black and white flag displaying the Shahada – a testament to the faith of Muslims. The flag has been popular among Sunni Islamist militant groups such as Islamic State and al Qaeda. (Reuters)