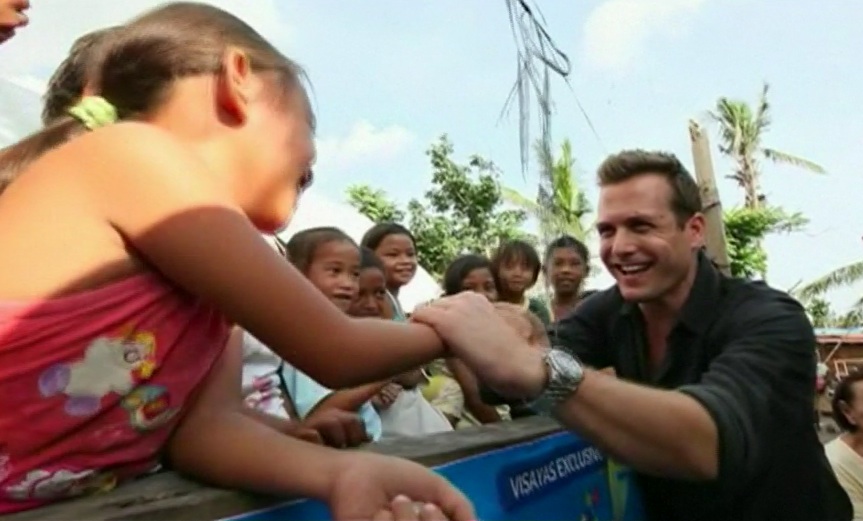 American actor Gabriel Macht visited the typhoon stricken central Philippines on Saturday (March 8) to give support for recovery efforts, four months after Haiyan slammed onto coastal towns.
Macht, who plays cutthroat lawyer Harvey Specter in the American TV series "Suits", met children and listened to the stories of the victims from Ormoc City.
The actor traveled to the Philippines to support a local charity programme called "Project Wonderful", which aims to give livelihood opportunities for the victims displaced by typhoon Haiyan.
Macht said during an interview in Manila that he was humbled by the resilience of the survivors, who are slowly rebuilding their lives, months after the typhoon.
"What I found is that the Filipino people are strong, and even with all the challenges that have come their way, I think that they get back up and they are very positive and are very hopeful that their town, their cities are going to get rebuilt, and it's inspiring to see that," Macht said.
Macht, who recently had a second child with his wife Jacinda Barrett, said helping the less fortunate is a lesson he wants to pass on to his children.
"My daughter, who is six and a half, knows why I'm here, but as they get older, hopefully I'd be able to share with them, that giving back is the way to go," he said.
Macht said his off-screen persona has different views from the cold-hearted character he plays in Suits.
"Harvey would say that vulnerability is a weakness, and I actually look at it differently. That being here in the Philippines, I've seen that the people of Ormoc are vulnerable, but it provides a great strength for them to overcome what's happened," he said.
Macht's trip to central Philippines follows a string of visits by celebrities and political figures to typhoon-struck towns, to support relief and recovery efforts for the millions displaced. Soccer star David Beckham and pop idol Justin Bieber were among the high-profile visitors.
Typhoon Haiyan, one of the strongest typhoon recorded to ever hit land, devastated the central Philippines on November 8, killing at least 6,000 people and more than1,400 more missing.
Source: Reuters/Globe Telecoms