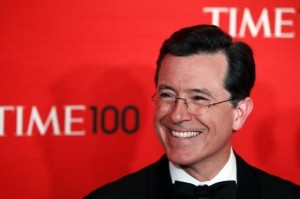 (Reuters) – Stephen Colbert dropped in on David Letterman's late night CBS talk show, the "Late Show" on Tuesday, to get a glimpse of the rigors of the high-profile job he will take over in 2015.
"He just stopped by to sign the lease," Letterman said of his successor in his opening monologue.
Continuing the passing-of-the-torch theme, the host quipped, "You look right at home," as Colbert took his seat.
In a nod to Letterman's successful, 20-year run on the show, Colbert said, "I'm going to do whatever you have done," to which the often self-deprecating Letterman replied, "Oh no, no, no, you don't want to do that."
The lovefest continued with the pair later taking a picture, or "selfie," of themselves, using Colbert's phone.
But after telling Letterman, "Obviously, I'm thrilled to be taking over for you," Colbert recounted past near-misses with the veteran host, including a 1986 internship he turned down, "Because you did not pay people," and a bid to write for Letterman's show more than a decade later.
Colbert brought along and read the Top 10 list he had written for one of the Late Show's signature bits, the Top 10 cocktail recipes for Santa, which included a "Scrooge driver – grain alcohol and regret."
Worrying about being at home too much once his current show ends, Colbert asked "When are you leaving? I don't know, I should have asked," but Letterman merely laughed.
Chatting about family vacations, Colbert said he had trouble relaxing.
"I don't know why you do comedy, but it's not because everything's all right up here, for me," he said, tapping his temple. "It's not a normal thing to do with your life. It's more dangerous than bungee jumping.
"But I don't have a constitution for hard core alcoholism, and so I have to tell jokes all the time or I go a little insane," he added.
Colbert, 49, stars on cable channel Comedy Central's "The Colbert Report," in which he satirizes conservatives by adopting the persona of an egocentric, clueless pundit. He has said he will drop that persona, first popularized on "The Daily Show with Jon Stewart. "The Colbert Report" debuted in 2005.
Details of Colbert's "Late Show" format, or whether it will remain in New York, have not been announced. He has signed a five-year agreement with CBS.