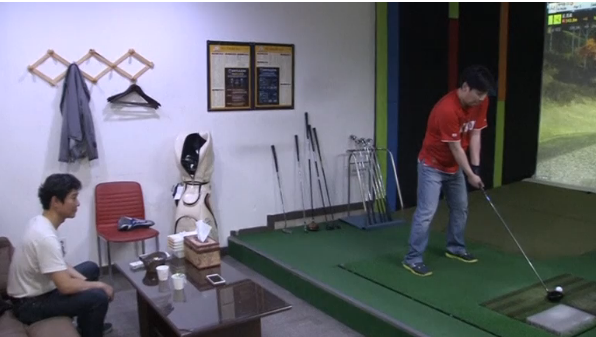 SEOUL, South Korea (Reuters) – Behind a door bearing the name "Tiger Woods," 44-year-old Lee Seung-yeop takes a powerful swing of his iron, launching the ball towards a grassy green projected onto a screen in a virtual golf lounge in the Gangnam district of Seoul.
"Screen golf is much cheaper than regular golfing when you think of the costs. Sure it might not feel real, but it's cheap and convenient. That's why I come here often," he said in an interview with Reuters.
If South Korea's government has its way, people like Lee will swing their clubs more often on real fairways. It wants to make golf less expensive and elitist and is urging course operators to allow people to play without the need to hire caddies or carts.
While South Korean women don't appear to need much encouragement to excel – six of them fill the top ten slots on the Ladies Professional Golf Association (LPGA) tour – growth of participation in the traditional version of the once-booming game is slowing.
The government hopes golf can do its bit to drive consumption by spending more on a game that South Koreans already lavish $13 billion on annually.
Visitors to South Korea's 473 golf courses rose just 5.3 percent last year, according to the Korea Leisure Industry Institute (KOLE), the slowest in three years and lagging the double-digit gains of most of the 2000s as the high cost of playing has taken its toll.
Lee Hoseung, the Finance Ministry's Director-General for Economic Policy, says the government wants to develop golf as a public sport, and attract more people from abroad to visit South Korea and play.
"Golf has an elitist, extravagant image and is very expensive. We feel it is right that we develop golf as a public sport, ease some of the consumers' burden, expand the sport's base and even heighten the golf industry's international competitiveness," he said.
South Korean governments have had mixed feelings about golf, and the Finance Ministry's proposals, which would also make it easier for private golf courses to turn public, were tucked inside a 109-page document last month outlining efforts to boost an economy that grew just 2.6 percent last year.
Golf accounts for 38 percent of participation sports spending in South Korea, booming in the late 1990s when Pak Se-ri became the youngest-ever winner of the U.S. Women's Open in 1998. A year later, President Kim Dae-jung formally encouraged the popularisation of golf in 1999.
But golf's elitist image has led presidents including current office-holder Park Geun-hye to warn public servants not to play, although they are not officially banned from doing so.
Private courses are handicapped, paying taxes on top of ordinary business taxes.
"The government pushes policy to make golf a public sport, meanwhile, private clubs demand lower taxes. Simply, private golf courses are focusing on how to make money, they are on the opposite side of the government's policy. For these reasons, there are a lot of complaints from private clubs," said Seo Cheon-beom, president of KOLE.
South Korea's ambivalent attitude to the game is reflected by its military, which euphemistically refers to roughly 30 golf courses on its bases as "physical training facilities."
Average private club joining fees that peaked at 317 million won ($275,125) in April 2008 have fallen to one-third of that, KOLE said, and nearly half of the country's 234 member-only golf clubs had burned through their capital by the end of 2014, government data shows.
A round of golf at a public course in South Korea costs roughly 200,000 to 250,000 won ($174-$217) per person playing in a group of four. That includes fees for a shared caddy, which range from 80,000 to 120,000 won in South Korea, compared with 25,000 to 40,000 won in Japan, government data shows.
Screen golf, meanwhile, is booming. South Korea had more than 7,000 screen golf lounges last year, up from fewer than 1,000 in 2006, according to the Korea Simulation Golf Culture Association. At industry leader Golfzon Co Ltd's lounges, it costs around 30,000 won to play.