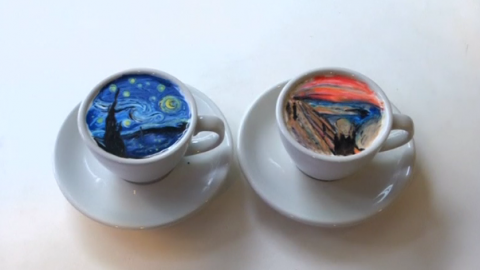 SEOUL, South Korea (Reuters) — A South Korean barista is gaining popularity online with his recreation of famous paintings like Vincent van Gogh's 'The Starry Night' on the tops of cups of coffee.
Lee Kang-bin's passion started at the age of 17 when he first learned how to make coffee.
Three years later, he even made it for his fellow troops during his military service at a camp near the border with North Korea.
He started making coffee art, or 'cream art coffee' as it is referred to on social media, after leaving the military at the age of 21.
Two years later, he launched his own cafe, Cafe C. Through, in central Seoul.
Lee now has over 160,000 followers on Instagram.
He even teaches other baristas around the world how to produce coffee art, and has also started classes for enthusiasts in Seoul.
Each cup of art costs 10,000 won ($8.72), slightly more expensive than a regular cup of latte found in other cafes in the South Korean capital.
Seeing as it takes a little time to make his creations, he uses cold coffee instead of hot, so as not to ruin its taste.
Coffee drinking is on the rise in South Korea. Per capita, coffee consumption has nearly doubled since 1990 to 2.3 kg (5 lb) per person, according to the International Coffee Organization — but that's still roughly half that of what Americans consume.