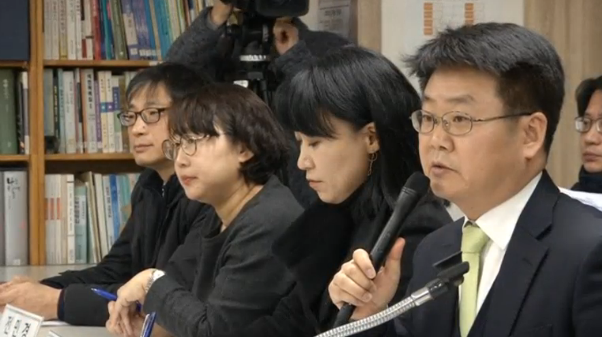 SEOUL, South Korea (Reuters) — Hundreds of South Korean artists sued President Park Geun-hye and former aides on Thursday (February 9) for trying to silence them with a blacklist of writers, actors and others critical of the scandal-plagued administration.
Park's former presidential chief of staff and her culture minister have been charged with abuse of power for their role in drafting the blacklist in a corruption scandal that has gripped the country and led to Park's impeachment in December.
Park and her aides violated the artists' right to free speech and expression and their right to privacy by collecting personal information to use in drawing up the list, lawyers representing the group told reporters.
"The reason we are filing a lawsuit is to resist the attempt to tame art and culture that has been prevailing under the past military regime, and to exercise free will to proclaim that past mistakes should not be repeated," said Cho Young-sun, a member of the liberal Lawyers for a Democratic Society group representing the artists.
The practice harked back to the "dictatorship days" of Park's father, Park Chung-hee, who ruled the country after taking power in a coup in 1961 until he was assassinated by his disgruntled spy chief in 1979, Cho said.
"Public servants of the Republic of Korea and those who were aware of the existence of the blacklist must be questioned clearly of their juridical accountability for what they did and why they kept silent," he said.
The 461 artists, who include theater director Park Kun-hyung and novelist Hyun Ki-young, are initially seeking 1 million won ($873) in damages each. The legal system does not allow for punitive damage awards and rulings in civil suits are small compared to those in other countries.
The Culture Ministry last month issued a public apology for the blacklist, which it said excluded artists from government grants and financial support, admitting there was a systemic effort to sideline critics of the scandal-plagued Park.
However, the presidential Blue House has denied that such a blacklist exists. Former Culture Minister Cho Yoon-sun, who resigned last month after being arrested, has said that she had heard reports of such a list but that she had nothing to do with it.
The artists bringing the suit listed Park, her former chief of staff Kim Ki-choon, and Cho, along with government cultural agencies, as defendants.