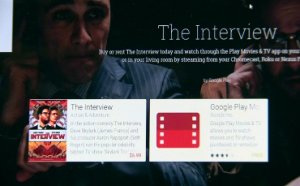 Sony Pictures makes the controversial comedy, "The Interview," available on Wednesday (December 24) through online video platforms run by Google, Microsoft and Sony itself, ahead of a limited theatrical release on Thursday (December 25).
Sony, which just last week canceled the release of the comedy – about two TV talk show hosts who are sent to North Korea to assassinate its leader – is now looking for ways to widen its distribution beyond a small group of some 200 independent theaters.
The movie triggered the most destructive cyberattack ever to target a U.S. company.
Besides the limited release of "The Interview" on Dec. 25, the upcoming holiday weekend is slated with a number of heavily anticipated titles. Among those include director Angelina Jolie's "Unbroken," the survival story of prisoner of war and Olympic runner Louis Zamperini and Mark Wahlberg's "The Gambler," in which the actor lost 60 pounds to play a literary professor turned gambling addict.
Comedian Adam Sandler topped Forbes' list of Hollywood's most overpaid actors for a second consecutive year to earn the dubious honor, the magazine said on Tuesday (December 23).
Although Sandler's latest film "Grown Ups 2" was a hit, pulling in $246 million at the global box office, it didn't go far enough to make up for the 48 year-old's previous flops, "Jack and Jill" and "That's My Boy." (Reuters)