By Mike Collett-White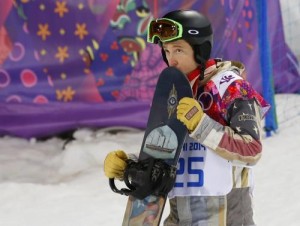 SOCHI, Russia Tue Feb 11, 2014 3:27pm EST
(Reuters) – American snowboarder Shaun White, one of biggest draws at the Winter Olympics and favorite to win his third straight halfpipe title, bowed out without a medal on Tuesday in the biggest upset of the Games so far.
The 27-year-old was criticized for withdrawing from the slopestyle event to avoid risk of injury and the strategy backfired when Switzerland's Iouri Podladtchikov was comfortably the better jumper and twister in the floodlit final.
"I am disappointed," White said after the event. "I hate the fact that I nailed it in practice, but it happens. It's hard to be consistent."
The drama unfolded while the women ski jumpers fought it out for the first-ever Olympic medals, after campaigning for 13 years to be included alongside the men.
Germany's Carina Vogt collapsed in tears, then was mobbed by jubilant team mates, when her narrow win was confirmed following a tense wait at the bottom of the hill.
That brought to a close the fourth day of thrilling competition at the February 7-23 Games, with most of the action set among the peaks of the Caucasus Mountains.
Mild temperatures left many competitors complaining about poor snow conditions, and the number of tumbles across disciplines ranging from cross-country to freestyle skiing slopestyle appeared to back them up.
The final training session for Wednesday's women's downhill was canceled due to the conditions, and ahead of the Nordic Combined competition on the same day, American Bill Demong said of the snow: "It's not even slushy, it's just mushy."
Temperatures are expected to rise to at least 15C (59 Fahrenheit) later this week, potentially posing more problems.
DEAD SKIER REMEMBERED
Darya Domracheva gave her rivals no chance as she powered to victory in biathlon's 10km pursuit, becoming the first woman to win a Winter Olympic gold for Belarus.
Germany's Natalie Geisenberger was as dominant in securing victory in the women's luge, but in a rare display of discord, compatriot and silver medalist Tatjana Huefner said the winner was favored by her federation.
Teenager Dara Howell of Canada won the inaugural women's freestyle skiing slopestyle.
Several skiers crashed out spectacularly, including Howell's compatriot Yuki Tsubota, who suffered a suspected broken jaw when falling heavily in the final.
Howell paid tribute to freestyle skiing pioneer Sarah Burke, who died in a training accident in January 2012. The International Olympic Committee (IOC) earlier banned athletes from wearing stickers in her memory.
"She was such an inspiration to me and everyone else in free skiing, I just think that she would be so proud and happy," said Howell. "It's truly an honor."
It was Canada's fourth gold of the Games but they trailed in the overall table after Norway won both the men and women's cross-country sprints.
Russia lingered in seventh position with a solitary gold, three silver and three bronze medals.
The hosts are desperate to improve on their woeful performance at the last Winter Olympics in Vancouver when just three gold medals left them ranked 11th.
President Vladimir Putin has staked his personal and political reputation on holding a successful Games, and sporting glory would go a long way to convincing his countrymen that the project's huge price tag was worth it.
Back in Sochi, Russian Olga Fatkulina came close to an upset in the 500 meters speed skating, but the overwhelming favorite and world record holder, South Korea's Lee Sang-hwa, retained her title and left an army of home supporters in the Adler Arena crestfallen.
HOCKEY MANIA
The Olympic title coveted more than any other in Russia would be the men's ice hockey.
The Russians, Canadians and Americans were all paraded before the world's media on Tuesday, whipping up a frenzy of anticipation before a single puck had been shot.
"I participated in four Olympic Games and I don't remember such an interest in ice hockey players," former goaltending great Vladislav Tretyak, now president of the Russian Ice Hockey Federation, told reporters.
Attention was already turning to Saturday's mouth-watering clash between the United States and Russia.
That game will bring back memories of the "miracle on ice" at Lake Placid in 1980 when a U.S. team made up of amateur and college players, stunned the dominant Soviets, who had won five of the previous six Olympic titles.
PRAYING FOR AN EARTHQUAKE
The Sochi Games have cost an estimated $51 billion, making them the most expensive Olympics ever, although that figure has been questioned and would anyway include long term infrastructure projects in the region.
The buildup to the Games was overshadowed by threats of militant violence, an international outcry over a contentious "anti-gay propaganda" law and allegations of widespread corruption and profligacy.
Once they got underway that hostility quickly evaporated, although a militant Islamist group has urged followers to pray for an earthquake in Sochi during the Olympics to avenge Muslims who died there fighting "Russian infidels".
"We know how the Russian infidels – those who we have been fighting for centuries in the Caucasus – have become arrogant and decided to hold the Satanic Games on the ground of the companions who brought Islam," said an appeal from a local branch of the militant group Caucasus Emirate.
"May Allah give the infidels in Sochi the last earthquake of their lives," it said.
On a more positive note, the International Olympic Committee lifted a ban on the Indian Olympic Association, which was suspended when a corruption-tainted official was voted in as secretary general in 2012.
It means that the three Indian athletes in Sochi who marched under the Olympic banner in the opening ceremony will carry their own flag at the closing event.
(Additional reporting by the Reuters Winter Olympic team, editing by Mitch Phillips.)