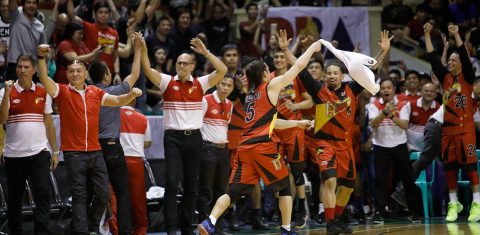 By Vivem Soriano
Eagle News Service
San Miguel survived a furious Ginebra rally in the 4th quarter to advance to the Philippine Cup Finals with a 100-94 victory to clinch their semifinals series at 4-1.
The Beermen will now wait for the winner of the other semis matchup between sister team Magnolia and NLEX which is tied at 2-2. Game 5 of that series will be today, Sunday, at the Ynares Center in Antipolo City.
Crowd favorites Ginebra came out strong to start the 1st quarter, opening the game with a 10-2 run and forcing the San Miguel to an early timeout.
But SMB responded strong, with Alex Cabagnot and Marcio Lassiter hitting back-to-back threes to spark a 10-0 run for the defending champions.
Ginebra refused to back down and dominated the rest of the quarter to put up a 34-25 lead at the end of the 1st.
Ginebra led by as much as 12 points during the 2nd quarter but a gritty fightback by San Miguel erased that lead and the game headed into halftime tied at 55-all.
San Miguel then dominated the inside and forced numerous Ginebra turnovers during the 3rd quarter to give the Beermen the edge heading to the final quarter, 83-76.
But Barangay Ginebra was not about to waive the white flag just yet, ripping the Beermen with an 11-2 run to recapture the lead 90-87 early in the 4th and final quarter.
The San Miguel Beermen, however, showed championship composure and experience down the stretch.
With the game tied at 94-all,  Cabagnot showed his clutch game once again, scoring twice inside the last 2 minutes of the game to give the Beermen a 98-94 lead.
The Gin Kings were unable to respond after that, with the San Miguel defense holding Ginebra scoreless during the last 3:40 of the game.
Lassiter then made two free throws down the stretch to finally ice the game for the Beermen.
With the victory, San Miguel will march on to their fourth straight All-Filipino Finals appearance.
They will be aiming as well for a fourth straight Philippine Cup title, having won the Jun Bernardino Perpetual Trophy last year for capturing the last three All-Filipino titles. This will also be San Miguel's 39th finals appearance overall.
Reigning 4-time MVP June Mar Fajardo once again led San Miguel with 25 points and 9 rebounds.  Lassiter scored 23 points. Former MVP Arwind Santos had an all-around game with 11 points, 13 boards, 4 assists, 4 steals and 3 blocks. Matt Ganuelas-Rosser added 14 markers and pulled down 8 rebounds while  Cabagnot contributed 12 points for SMB.
Japeth Aguilar exploded for 32 points for Ginebra while Scottie Thompson shone once again with a triple-double performance of 10 points, 16 rebounds and 16 assists.
Boxscores:
SAN MIGUEL 100 — Fajardo 25, Lassiter 23, Ganuelas-Rosser 14, Cabagnot 12, Santos 11, Espinas 5, Ross 5, De Ocampo 4, Pessumal 1
GINEBRA 94 — J. Aguilar 32, Mercado 14, Thompson 10, Devance 9, Ferrer 8, Tenorio 8, R. Aguilar 7, Cruz 4, Caguioa 2, Caperal 0
Quarterscores: 25-34, 55-55, 83-76, 100-94