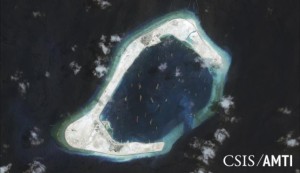 By Andrew Chubb, UWA
(Courtesy East Asia Forum) — The US defence establishment's provocative plan to assert freedom of navigation by patrolling near China's artificial islands in the South China Sea appears to have stalled. But if the United States abandons the policy it will forego an important opportunity to help stabilise Asia's contested waters.
In May, Secretary of Defense Ashton Carter reportedly asked the US military to develop plans to send planes and ships within 12 nautical miles (nm) of China's new installations — the radius of territorial sea and airspace granted to legitimate territorial features under international law.
The intended effect would be to demonstrate that land reclamation does not create new areas of sovereign territorial seas, cautioning Beijing against any future attempt to institute exclusive military control in these areas. This month, US defence officials reiterated their desire to carry out the plan. But so far no patrols have been conducted.
Some analysts have expressed concern that such freedom of navigation (FoN) operations would spur the militarisation of the area or, worse, provoke Sino–US confrontation. Similar misgivings in Washington are likely part of the explanation for the lack of implementation so far.
If conducted on the basis of careful research and clear communication, such a policy could show that the United States is willing to act in a measured way to uphold universally accepted international rules in the region. In the process, it would demonstrate limits to China's ability to create new 'facts on the water'.
Ensuring FoN operations in the Spratlys are constructive rather than destabilising depends first and foremost on making them scrupulously legal.
The key would be to make certain that US ships and aircraft only pass within 12 nm of those artificial islands built on features that were naturally underwater at high tide. One example is Mischief Reef, where China has created more than five square kilometres of new land. Island-building activities are not necessarily illegal. But no matter how much sand is dumped on these 'islands', the waters around them have no legal territorial sea status.
On this point, international law is, thankfully, unambiguous. Article 60 of the UN Convention on the Law of the Sea (UNCLOS) explicitly states that artificial islands 'have no territorial sea of their own'. Patrols within 12 nm of such submerged features would be on safe legal grounds and could not be construed as a violation of any country's territorial waters.
At the same time, UNCLOS is equally clear that even small 'rocks' may be entitled to 12 nm of sovereign territorial sea — provided they naturally protruded above the waterline at high tide. Fiery Cross Reef, where China has built a 3000 metre runway, is one such feature. American FoN patrols should not enter within 12 nm of this or any other disputed feature without producing strong evidence that it was, in fact, entirely submerged in its natural state.
Carefully differentiating between different legal categories of features would answer the region's desire for the United States to support a rules-based order in maritime Asia, while not becoming a source of additional tensions.
The second key to constructive US patrolling is fairness. Patrol routes must show they are not targeted at China but at upholding the principle (or 'rule') of open access for all. Patrols navigating within 12 nm of Chinese installations should also pass by one or more of the other South China Sea claimants' outposts on non-territorial features, thereby asserting the 'rules' in an equitable way.
Vietnam occupies several features that its officials freely refer to as 'submerged', which are accordingly not entitled to territorial seas under international law. Second Thomas Shoal, home to the Philippines' outpost aboard a disintegrating World War II-era transport ship, is also probably in this category, as is Ardasier Reef, occupied by Malaysia since 1986.
Another concern is that close-in patrolling could prompt China to install more weaponry on the islands. No doubt, if Beijing feels its new outposts are being threatened, this will increase its motivation to arm up.
But FoN patrols would only need to puncture the 12 nm radius around the 'islands' to serve their purpose — they do not need to, and should not, approach any country's installations. Entering the zone, but refraining from pressing further, would clearly signal that the purpose is to demonstrate that no territorial seas exist, as per international law, rather than threaten any state's positions in the area.
Finally, US patrols would be unlikely to unleash an uncontrolled nationalistic fervour that pushes Beijing into an irrational spiral of escalation. US ships or aircraft traversing within 12 nm of artificial islands would only become a major issue for the mainland public if state media coverage made it one. Even then, the Chinese public at large is more rational than commonly assumed when it comes to these offshore issues. Confrontation, would not necessarily be the preferred choice for the Chinese public.
Thanks to the clear language of UNCLOS, no country can claim foreign patrols around naturally submerged features in the South China Sea violate their territorial waters. This makes FoN operations through these areas a useful move. At a glance it may look like brinkmanship, but it is relatively low-risk as it is backed unambiguously by a legitimate international legal regime. Done right, it could even constitute one small step towards a genuine rules-based maritime order.  (Courtesy East Asia Forum)
Andrew Chubb is a PhD student at the University of Western Australia, researching Chinese public opinion and maritime disputes in the South China Sea and East China Sea. He blogs at South Sea Conversations.
See link:  http://www.eastasiaforum.org/2015/09/21/should-the-us-patrol-around-chinas-artificial-islands/