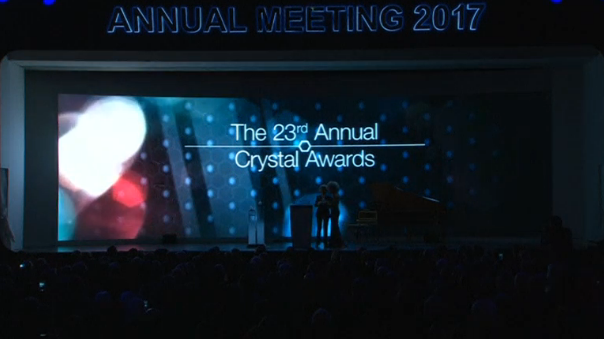 DAVOS, SWITZERLAND (Reuters) — The World Economic Forum (WEF) honored Shakira, Forest Whitaker and Anne-Sophie Mutter on Monday (January 16) at the 23rd Annual Crystal Awards in Davos, Switzerland.
Violinist Anne-Sophie Mutter received the award for her leadership in providing opportunities for young people to develop careers as musicians.
Mutter is the founder of the Anne-Sophie Mutter Foundation. Since 1997, the foundation has provided support in the form of scholarships, performing opportunities and commissions for rising young artists worldwide.
In her speech Mutter appealed to the audience to end world hunger.
"If one could eat resolutions and words nobody would starve. I appeal to you ladies and gentlemen because each of you is able to make an active and significant contribution to improving the nutrition situation around the world. Ignore the call of the siren for even more wealth and more power. And follow the calling to be truly human," said Mutter.
Singer and songwriter Shakira, received the award for her leadership in supporting early childhood development.
Shakira is a UNICEF Goodwill Ambassador and is the founder of the Pies Descalzos Foundation, which provides over 6,000 disadvantaged students with access to quality education in her native Colombia, including nutritious meals, educational enrichment through art, music and recreation, and economic opportunities and workshops for families and the community at large through an "open door" policy, benefiting over 70,000 community members.
"I'm not suggesting it's easy but there is an exit strategy to poverty. And it's getting those 250 million kids who are at risk, who need access to quality ECD programmes to get in school and stay in school. We have to push governments to invest more on ECD. We have to invest in campaigns for public awareness. We have to make access to pre care education free. And we have to create a fund for education. Just like aid and Malaria have their own fund. I know I can sound vehement as Bono once called me. And it's because I am. He is completely right. And I know I can drive some people nuts with my insistence but it's only because I'm so passionate. And the reason I'm so passionate is because I've seen it with my own eyes. I've seen what education can do. What the investment in education can do. Miracles," she said.
Finally, actor and social activist Forest Whitaker was also presented with the award for his leadership in peace-building and conflict resolution.
Whitaker is the founder and chief executive of the Whitaker Peace & Development Initiative, co-founder and chair of the International Institute for Peace and UNESCO Special Envoy for Peace and Reconciliation. His work as a global advocate and peace builder focuses on empowering youth as leaders and entrepreneurs in communities touched by violence and poverty.
"We live in a deeply deeply connected world. As you've said. And the accumulation of violence across the globe has the potential to create an atmosphere for all of us of hopelessness and despair. Thinking that 'how can we solve this problem?' You can. Along with everyone else. There are ordinary heroes also who are working out here, all around the world. Try to help us. Try to rekindle the flame of hope for all of us. To let us know that it is possible if we work together. It is possible if we form alliances and partnerships. It is possible to change the dynamic and tip the scales the other way," said Whitaker.
The awards ceremony, hosted by Hilde Schwab, the chairperson of the Schwab Foundation for Social Entrepreneurship, aims to recognise artists for exemplary commitment to improving the state of the world.
Through the years there have been more than 80 recipients of the Crystal Award, including artists such as Andrea Bocelli, Matt Damon, Peter Gabriel, the WEF said in a news release.