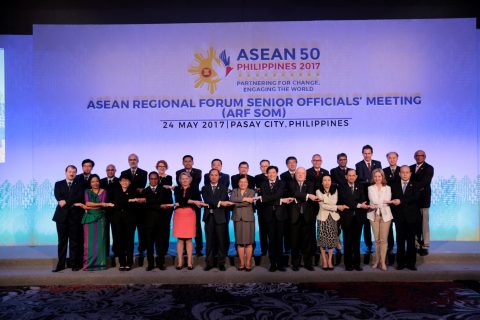 Senior Officials of the ASEAN Regional Forum (ARF) met on 24 May 2017 in Manila to discuss ways of bolstering cooperation to combat non-traditional security threats including cybercrime, terrorism and violent extremism, trafficking in persons and illicit drugs, the proliferation or use of chemical, biological, radiological and nuclear weapons, and natural disasters.
Assistant Secretary Hellen Barber-De La Vega, the Philippine Acting Senior Officials' Meeting (SOM) Leader for the ARF, chaired the meeting, which also featured candid and frank, yet constructive, exchange of views among the Senior Officials on developments in the South China Sea and the Korean Peninsula, as well as on piracy and armed robbery against ships.
The ARF is a regional security forum with twenty-seven (27) member-countries including the ten (10) ASEAN Member States (AMS), Australia, Bangladesh, Canada, China, Democratic People's Republic of Korea, European Union, India, Japan, Mongolia, New Zealand, Pakistan, Papua New Guinea, Republic of Korea, Russia, Sri Lanka, Timor Leste, and the United States.
It serves as a venue for discussing regional security issues. Since its founding in 1994, the ARF has bolstered interstate co-operation and helped contribute to a more secure regional security landscape; a prime example of this can be seen in the area of humanitarian assistance and disaster relief (HADR). (DFA)