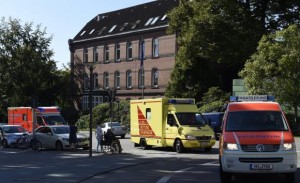 (Reuters) – A who contracted Ebola while working for the World Health Organisation (WHO)in Sierra Leone arrived in Hamburg on Wednesday for treatment at a tropical medicine unit, becoming Germany's first patient with the disease.
At a news conference on Wednesday the clinic's tropical medicine specialist said the man would not be given new experimental drugs such as ZMapp but that his treatment would at first focus on managing his symptoms.
The Senegalese doctor arrived in Germany on a specialist plane and was transferred to the university clinic Hamburg-Eppendorf in a special isolation ambulance, accompanied by a police guard.
The WHO had approached the clinic on Saturday to ask if they would accept the patient, Rico Schmidt, health spokesman for Hamburg city senate told reporters.
Doctors at the clinic declined to give details about the man's condition due to patient confidentiality, but said the fact he was able to enter the aeroplane himself suggested he was well enough to benefit from treatment.
The patient, who has not been named, had worked in a laboratory in Sierra Leone that was testing for Ebola, the WHO has said. It shut the laboratory on Tuesday after he became infected.
Hamburg-based tropical medicine specialist Stefan Schmiedel said they would not be using drugs such as ZMapp, which has been given to some Ebola patients including a British volunteer nurse recently repatriated to London.
Treatment would at first consist of managing the patient's vital functions, pain and fever levels. "We believe through these simple measures the threat of Ebola can be reduced," Schmiedel said.
One of the deadliest diseases known to man, Ebola is transmitted by contact with body fluids. At least 1,427 people have died and 2,615 have been infected since the disease was detected deep in the forests of southeastern Guinea in March.
The WHO has deployed nearly 400 of its own staff and partner organizations to fight the epidemic of the highly contagious hemorrhagic fever, which has struck Sierra Leone, Liberia, Guinea and Nigeria.
The outbreak has killed at least 120 healthcare workers.
(Reporting by Reuters television, writing by Alexandra Hudson; Editing by Crispian Balmer and Raissa Kasolowsky)