By Ulf Laessing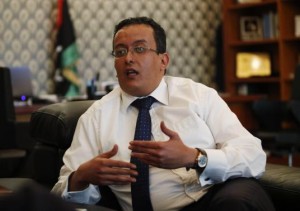 TRIPOLI Sat Feb 22, 2014 8:05pm EST
(Reuters) – Investing in Libyan stocks may sound like an absurd idea at a time when the North African country is descending into chaos and armed militias seize oil ports or ministries at will.
Ever since the ouster of Muammar Gaddafi in 2011, Libya's government has been struggling to establish law and order and assert control over a vast desert nation awash with arms.
But despite the turmoil, Libya's stock market is getting ready for the first launch of Islamic investment funds, the most prominent bourse debut since the eight-month uprising.
Authorities also hope a regulator, another novelty for Libya, will bring transparency to an opaque market and put it on the radar of risk-willing investors.
A recent sell-off has made Libyan stocks cheaper than other regional bourses. Major banks were once worth as much as 25 Libyan dinars ($20) a share, but now cost less than 10.
Still, even bourse officials admit that it will be hard to sell a country making headlines with political infighting, shootings and hardline Islamists roaming the streets.
"We need stability," said Ahmed Karoud, the energetic bourse director, whose office is almost as large as the trading room.
Officials hope the turbulence in the OPEC producer will calm down at some point, enabling the economy to grow.
Libya badly needs reconstruction after the devastating civil war. The $55 billion budget calls for new airports, universities and hospitals, but political paralysis has blocked spending.
Despite the turmoil, Libya is a potentially rich nation, sitting on Africa's largest proven oil reserves. Western brands such as Nike and Marks & Spencer have set shop in the same upmarket Tripoli district as the stock market.
REGIONAL MINNOW
The Libyan bourse is tiny even by regional standards with a market value of around $3 billion, compared with its Cairo counterpart's $70 billion and Casablanca's $50 billion.
In the Arab world, only the Khartoum and Damascus stock exchanges are smaller. Libya has only 11 stocks, two fewer than in the Gaddafi era, mostly banks and insurance companies.
When Libya set up the bourse in 2007, it wanted to attract capital after years of isolation. But foreigners were reluctant to commit money due to corruption, currency curbs and arbitrary rulings from Gaddafi and his inner circle.
Though the bourse treats foreigners on an equal basis with Libyan investors, they account for only 1.5 percent of trades.
One problem is that the central bank makes it difficult to transfer hard currency out of Libya, something the bourse is trying to change, Karoud told Reuters.
The bourse now hopes for a fillip from Islamic funds tapping into a new market. Parliament has ruled that banks must comply with Islamic law, with interest payments banned by 2015.
Two Islamic real estate funds are in the works. The first issue worth 165 million Libyan dinars is expected in April, with a projected annual return of 20 percent. A second fund worth 300 million dinars will follow a few months later, said Karoud.
He said several firms are planning to list pending final regulatory approval. Authorities have been mulling the float of large state firms such as cell operator Libyana, which would bring liquidity and end the dominance of banking stocks.
But plans have been delayed as any sale offer would throw up the sensitive question of job cuts at the overstaffed firms.
One firm that plans to float in 2015 is HB Group, a holding company with stakes in an array of retail and financial units.
"We don't want to float before the overall political and economic environment is in place," said HB Group's chairman, Husni Bey, who says he still believes in the bourse. "It is just a question of time and it (the bourse) will move."
"WILD MONEY"
Still, foreigners remain wary.
Gary van Staden, senior political analyst at South Africa's NKB Independent Economists, said institutional interest in Libya was low as other African markets offered lower-risk returns.
"However, I believe Libya has a long-term future brighter than the current environment suggests so it may just be a matter of timing for the serious money to look at Libya," he said.
"But in the meanwhile there will be those with some wild money to invest and Libya may offer attractive returns to mitigate the risk."
The biggest problem is the lack of liquidity. Some stocks move little, as a bored dealer in the trading hall points out.
"We've been open for more than hour today but we have only had two deals so far," he said, sitting in a row of desks with several empty chairs assigned to rival brokerages.
Daniel Broby, chief investment officer at UK frontier asset manager Silk Invest, said the conversion to Islamic law might help outdated state banks to move towards a more viable business model, but also e sleepy bourse needed more action.
"We looked at it in the past and decided then it was too illiquid with not enough depth," Broby said.
For Libyan investors, the bourse has taken them on a painful journey since it reopened in March 2012. Libya's chaos knocked the market down by 25 percent in 2013, according to Karoud. It has lost some 40 percent since its 2007 launch.
"Can you see this? Is this acceptable?" said gold trader Miftah Shibl, struggling to believe the latest price quotes displayed on a large screen in the reception hall.
He said he had bought shares worth 15,000 dinars a year ago, some of which have lost 40 percent. "I had no big expectations but wanted to diversify my savings," he said, blaming weak government institutions for the bourse decline.
($1 = 1.2353 Libyan dinars)
(Editing by Alistair Lyon)