By Jonathan Kaminsky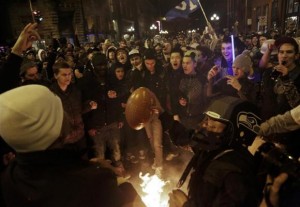 Mon Feb 3, 2014 4:31pm EST
(Reuters) – The Seattle Seahawks football team was due to return home to a jubilant city on Monday, fresh from trouncing the usually high-scoring Denver Broncos 43-8 to win the Super Bowl and the franchise's first NFL championship.
Thousands of blue- and green-clad Seahawks fans took to the streets of Seattle on Sunday night to celebrate, with revelers downtown lighting bonfires and fans on Greek Row near the University of Washington setting fire to couches in what police said were mostly non-violent, if boisterous, celebrations.
The atmosphere was dampened somewhat by two non-life-threatening shootings and by revelers who threw bottles at police and storefront windows downtown, as the party wound down early on Monday, said Seattle police spokesman Mark Jamieson. Police made about a half-dozen arrests, he said.
The victory was particularly sweet for a city known for its star-crossed sports franchises. Seattle's previous major professional team sports championship came in 1979, when the SuperSonics – who left for Oklahoma City in 2008 – captured the National Basketball Association's crown.
"The overall atmosphere for the vast majority of the night was one of just celebration," Jamieson said. "People were ecstatic that their team won."
Fans were discouraged from meeting the team at the Seattle-Tacoma International Airport. Instead, the Seahawks plan to hold a celebratory parade through the city on Wednesday.
The Seahawks were enthusiastically embraced throughout the Pacific Northwest, with their fans taking on the nickname "the 12th Man" in a nod to the opponent-rattling rumble they have made throughout the season at home games.
But outside of the region, many more U.S. football fans had been pulling for the Broncos, led by widely respected quarterback Peyton Manning. In a Public Policy Polling survey released days before the game, 49 percent of respondents said they preferred the Broncos to the Seahawks, versus just 22 percent favoring Seattle. Some 29 percent were undecided.
"Liberals, conservatives, men, women, whites, African Americans, Democrats, Republicans, Latinos, and voters young and old" all preferred the Broncos, PPP said in a statement accompanying the poll.
(Reporting by Jonathan Kaminsky in Olympia, Washington; Editing by Cynthia Johnston and Steve Orlofsky)