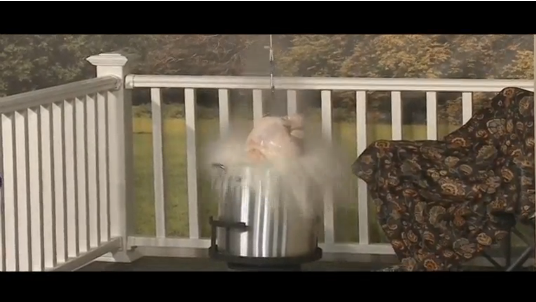 MARYLAND, United States (Reuters)– The U.S. Consumer Product Safety Commission (CPSC) warned Americans not to place a frozen turkey into a hot deep fryer this Thanksgiving.
As the video showed, doing so results in an explosion of oil and flames.
"We estimate an average of about 1,400 cooking fires on Thanksgiving Day each year. This is more than three times the average number of cooking fires each day throughout the rest of the year," the Commission said in a statement accompanying the video.
"Since 2004, CPSC is aware of 107 fire or burn incidents involving turkey fryers that have caused 47 injuries and $5.2 million dollars in property loss," the statement continued.
Thanksgiving means turkey dinners, family gatherings and football.
Americans eat their way through some 46 million turkeys at Thanksgiving and 22 million during the Christmas holiday.