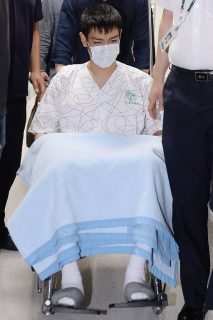 SEOUL, South Korea (AFP) — South Korean pop star T.O.P regained consciousness Friday after spending three days in a critical condition in intensive care following an apparent drugs overdose.
The 29-year-old rapper from K-pop boy band Big Bang was found unconscious at a police station where he was undertaking mandatory military service, and rushed to a Seoul hospital on Tuesday.
"I'm sorry," the singer, whose real name is Choi Seung-Hyun, told reporters Friday as he emerged from the hospital's intensive care unit in a wheelchair.
Choi was to be transferred to a different hospital, his family said, without giving further details.
T.O.P is believed to have overdosed on benzodiazepine — a class of tranquillizers that includes well-known brand name drugs such as Valium — a member of his medical team said earlier this week, without specifying whether Choi had a prescription for the drugs.
T.O.P's hospitalization came a day after he was indicted on charges of smoking marijuana and transferred out of Gangnam Police Station, where he had been a conscripted policeman since February.
He was working at another police station at the time of his collapse.
T.O.P was accused of smoking marijuana on four occasions in his home in Seoul last October and has partially admitted to the charges, issuing a handwritten apology letter Sunday.
"I deserve punishment for hurting the (BIGBANG) members, agency, public, fans and family," he said in the letter.
"I'll regret this for tens of thousands of years."
Both recreational and medical use of marijuana is illegal in South Korea, and smoking the banned substance is a crime punishable by up to five years in prison or a 50 million won (US$44,500) fine.
More than 60 years after the end of the Korean War, every South Korean man between the age of 18 and 35 is required to perform two years of military service.
The main rationale is the continued threat from nuclear-armed North Korea, given that the 1950-53 Korean conflict ended with a ceasefire rather than a peace treaty, leaving the two Koreas technically at war.