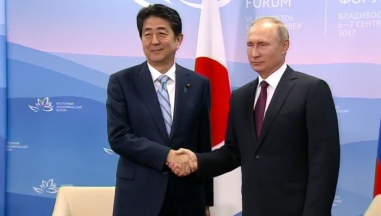 VLADIVOSTOK, Russia (Reuters) — Russian President Vladimir Putin held talks with Japanese Prime Minister Shinzo Abe on Thursday (September 7) on the sidelines of the Eastern Economic Forum in Vladivostok.
The leaders are expected to discuss economic cooperation as well as North Korea's nuclear program.
The issue of the disputed islands called the Northern Territories in Japan and the Southern Kuriles in Russia which were seized by Soviet forces at the end of World War Two is also on the agenda.
The dispute over the islands prevented the two countries from signing a peace treaty to formally end the war.