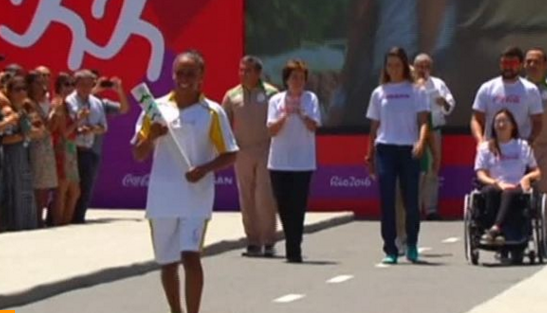 (Reuters) – The Olympic torch will visit 329 cities across each of Brazil´s 26 states and the Federal District, the Rio 2016 organising committee announced on Wednesday (February 24) in a colourful ceremony at its headquarters in the centre of Rio de Janeiro.
One of the greatest symbols of the Olympics will arrive in Brazil's capital from the Games' heartland in Athens on May 3, and will be carried 20,000 kilometres (12,430 miles) across ground and 16,000 kilometres (10,000 miles) through the air, before arriving in Rio de Janeiro for the Opening Ceremony on August 5.
Among some 12,000 people who will take their turn to lift the Olympic flame is captain of Brazil's Olympic volleyball team which took gold in London, Fabiana Claudino, who had not been expecting the news.
"I was surprised, because first of all I received a message saying that I had been chosen to show the new torch and the uniform, which I thought was cool, but then I arrived here and they said no you are going to carry the torch. I said 'what?', and they said 'yes you are going to carry the torch', so I was very happy, very excited, it is an amazing feeling," said Claudino.
Other torch bearers announced on Wednesday include Brazilian Olympic sailor and bronze medalist, Isabel Swan, and gold medalist in Judo at the Pan-American Games, Erica Miranda. Many others are yet to be announced, and each of them will get to carry the torch about 200 metres (660 feet).
President of the Rio 2016 local organising committee, Carlos Nuzman, expressed high hopes for the relay, which will snake its way all round the first South American country to host the Games.
"I think that the movement surrounding the torch is part of the movement known as "call everyone", in which everyone is going to be united and through this great contagion of high self-esteem," said Nuzman.
And the atmosphere already started to build on Wednesday, as crowds of lively teenagers marched with signs representing the cities where the torch will soon be seen.
The torches are made from recycled aluminium and resin, with stain finish, and decorative, green curves evoking Rio de Janeiro's mountainous landscape. They are designed to be expandable and stand 69 centimetres (27 inches) tall, weighing between 1 and 1.5 kilograms (2.2 and 3.3 pounds) each.
Authorities are working on security for the torch relay, one of the most inclusive parts of the Olympic celebration. Some 19 of the world's 50 most dangerous cities are in Brazil, according to a report released last year by Mexican advocacy group Citizen Council for Public Security and Criminal Justice. The Olympic torch will visit all 19 of them.