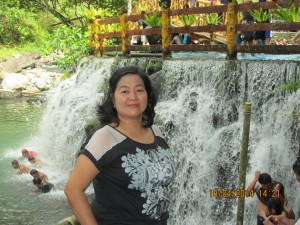 By: Geomar Cruz
Taking advantage of the long weekend, we decided to venture again into the famous Taytay falls and Dalitiwan resort in Majayjay, Laguna. I visited this place when I was a child and I love to spend my vacation here.
Leaving Pasay at 1 pm on Tuesday, we hied-off to Sta. Cruz, Laguna. The trip took 1.5 hours. Then we took a tricycle going to Sta.Cruz market where the jeeps going to Majayjay are located. After a one-hour drive to Majayjay town, we took another jeep going up the mountain to reach Dalitiwan resort.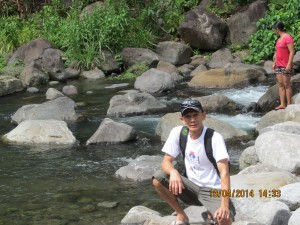 We spent the night at Dalitiwan resort. It was a big compound and the garden was facing Mt. Banahaw. The cold air and cold water in the creek made my whole body shake. As I wondered in the garden, I found a swing, a hut and lots of benches and plants. They also have karaoke machine, video game, billiard pool and other entertainment equipment. I like their nipa cottage house where you can hear the water flowing from the river and watch the mini-falls.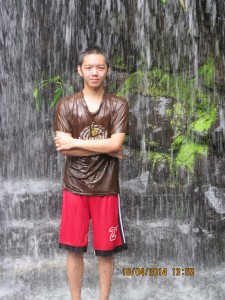 Dinner was served at the nipa cottage. It was very nice, just sitting there, enjoying the view and the cool evening breeze. The main dish was the catfish, Lucban longganisa, garlic rice, grilled milkfish and fresh bananas, all very good. They gave us espasol, suha (pomelo), and other kind of fruits. The time flows very slow in the barrio. I couldn't sleep well because I was not used to the sound of crickets and howling of the dogs (like in the horror movies).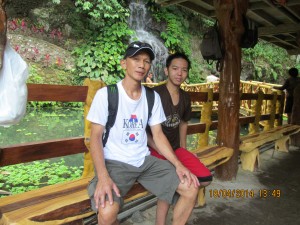 Everyone was up at 6:00 am, after eating breakfast we took another tricycle to reach Taytay falls. Thirty minutes later, we arrived at our destination but we needed to go down to the falls. With a stream of very clear and cold water on the left side, the concrete path was manageable except in some areas where the path was very narrow and you could see the ravine on your right side. After 20 minutes of walking, we reached the falls. The water was icy cold flowing from the Mount Banahaw springs.
It is very relaxing here. You can stay overnight to relieve stress. You can do plenty of things in here especially because this place is perfect for camping site and swimming.