By Mark Lamport-Stokes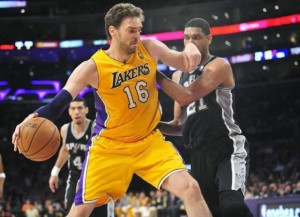 LOS ANGELES Fri Apr 18, 2014 5:01pm EDT
(Reuters) – Considered by many to be the 'Renaissance man' in the National Basketball Association (NBA), Spanish forward Pau Gasol is delighted finally to be the sole architect of his 'revival' as he eyes his playing future.
The 33-year-old from Barcelona has faced more than his fair share of trade rumors since joining the Los Angeles Lakers in February 2008 but now he can plot his own way forward with free agency looming in July.
Gasol has long been regarded as one of the most skilled and versatile players in the league but he endured a frustrating 2013-14 campaign during which he and Lakers coach Mike D'Antoni repeatedly disagreed on team strategy.
"I'm in charge of my future and destiny and I will listen to the possibilities on the table," double NBA champion Gasol, who had his Lakers exit interview at the team's El Segundo practice facility on Thursday, told reporters.
"I look at this as an opportunity, probably for the first and last time I'll be a free agent where I can choose. It's nothing like I've experienced before in the NBA.
"I'm still going to listen to the Lakers and what they have to offer and what they'll say about the team's situation and position at the time. We know what it is today, but we don't know what it'll be on July 1."
The 16-time NBA champion Lakers suffered a nightmare season, failing to reach the playoffs for the first time since 2005, and only the sixth time ever, as player injuries piled up and they finished with a dismal 27-55 record.
Gasol, a four-time All-Star with a deft touch and surprisingly agile movement, was one of their few bright spots, averaging 17.4 points and 9.7 rebounds per game despite his differences with D'Antoni, who insisted on a small-ball offense.
"The last few years I kept on my mind it could be my last day here so I tried to enjoy it," Gasol, who is one of the most eloquent and cerebral players in the league, said of his attitude going into every game he has played for the Lakers.
BEST STRETCHES
The Spaniard produced one of the best stretches of his career in January, scoring at least 20 points in 10 straight games while recording 11 double-doubles but he missed the last eight games of the season due to vertigo.
Gasol's final appearance in a Lakers uniform may well turn out to be the April 1 home game against the Portland Trail Blazers where he contributed nine points and four rebounds in a 124-112 loss.
"It's been on my mind quite often," he said, referring to what might be his last appearance for the Lakers. "I try not to think about it. Whatever happens, it'll work out for the best.
"I've had an amazing career until this point and I want to try and prolong it at a high level."
The seven-foot Gasol, who turns 34 in July, knows he will not come close to matching his salary this season of $19.3 million wherever he ends up playing, with so many winning teams now over the salary cap.
Should he end up leaving Los Angeles, the ever popular Spaniard, who played for the Memphis Grizzles before joining the Lakers, says he will retain only happy memories of his six-and-a-bit seasons on the Californian West Coast.
"I'm thankful and I appreciate our fans support I received over the years, not when things were going great and we were winning but also when people recognize my efforts and commitment and loyalty to the team despite everything," he said.
"That's when you most appreciate the support. I think it's been amazing for the most part. All things considered, it's been extremely great for me.
"I am glad I got to be a part of this franchise and this city," said Gasol, who aspired to be a doctor and spent a year at the University of Barcelona's medical school until he was lured away by professional basketball.
(Reporting by Mark Lamport-Stokes; Editing by Gene Cherry)