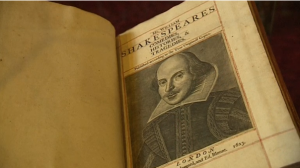 OXFORD, ENGLAND, United Kingdom(Reuters) – A nearly 400-year-old copy of a first edition of William Shakespeare's collected plays has been found in a vast aristocratic house on the Isle of Bute, off the western coast of Scotland.
Published in 1623, the First Folio contains Shakespeare's 36 plays, including several that had never been published before and might have been lost without it, such as "Macbeth", "The Tempest" and "As You Like It".
The discovery at Mount Stuart, grand neo-Gothic home of the Marquesses of Bute, brings the total of known surviving copies of the First Folio in the world to 234. Most others are in libraries and accessible only to scholars.
It is usually a single volume that would have to be read sitting at a desk, but the Bute copy was split in the past for ease of reading into three leather-bound volumes, one each for comedies, histories and tragedies.
"When I first heard about it, I thought you're pulling my leg or I thought poor you, you thought you have something really valuable and it's going to turn out to be something quite ordinary, so I was very very sceptical, when I first heard from Mount Stewart that they had a first edition folio of Shakespeare's plays. I was completely wrong," Emma Smith, a professor of Shakespeare Studies at Oxford University who authenticated the Bute Folio, told ITN.
"The First Folio itself is probably the most important book in the English language.. The most important book in the English language besides the Bible. It's the first collected edition of Shakespeare's plays and it preserves for us half of those plays that we otherwise would've lost. They would never have got into print and they wouldn't have survived. So we wouldn't have Macbeth, wouldn't have Twelfth Night, we wouldn't have The Tempest," she added.
Worth an estimated 2 to 2.5 million pounds ($2.8 to $3.5 million) according to Smith, the Folio is not up for sale and will be on public display at Mount Stuart until October.
It was found in the home's library, which houses a collection of artworks and artefacts acquired by the Stuart family over the centuries.
Inside the first page is an inscription from an 18th century editor of Shakespeare called Isaac Reed, describing how he acquired the book in 1786. The Folio also includes annotations by Reed that suggest he used it as a working document.
It was authenticated by a variety of methods, including painstaking, word-by-word checks to make sure the well-documented quirks and idiosyncracies of the genuine 1623 First Folio were present.
Britain has been holding commemorations this year to mark the 400th anniversary of Shakespeare's death on April 23, 1616.