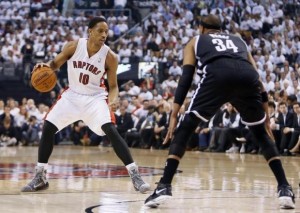 (Reuters) – The have promoted their return to the NBA postseason after a six-year absence as a 'Northern Uprising' and on Tuesday they backed up the marketing campaign with a 100-95 win over the Brooklyn Nets.
The victory was the Raptors' first in the post-season since 2008 and sends the best-of-seven Eastern conference first round series back to Brooklyn for Game Three on Friday level at 1-1.
"It (the win) gave us some confidence with everyone doubting us; can they win a playoff game, can they compete against a team like Brooklyn?," Toronto coach Dwane Casey told reporters.
"We are the underdog. The way our guys competed and fought tonight I was proud.
"But now the series starts, we have to go to their place and compete the same way.
"We're going to be the underdog again and we have to do the same thing there."
The series is clearly defined, a classic matchup pitting Brooklyn's veteran savvy against the young Raptors enthusiasm.
The Nets won Game One when future Hall of Famers Paul Pierce and Kevin Garnett stepped up late in the match but on Tuesday the Raptors' young guard DeMar DeRozan showed the way with 30 points, including 17 in the fourth quarter.
"The first game we played bad and now we know what we need to do to win," said DeRozan, who struggled getting his shots in Game One and was limited to 14 points.
"I just tried to come through for my team when they needed me, particularly in the fourth quarter.
"It's not going to be a cakewalk and we understand that.
"People who count us out, we don't pay attention to that, we understand we can beat this team each time we go out there and play and that's what we're going to try to do."
After being fined $25,000 for his expletive laced welcome to the Nets at a pre-game rally outside the Air Canada Centre on Saturday, Raptors general manager Masai Ujiri had no need to ramp up an already supercharged crowd on Tuesday.
Ujiri had left it to the local media to whip Toronto sports fans into a froth with talk of a lack of respect and conspiracy theories the league was doing its best behind the scenes to ensure a ratings grabbing Brooklyn-Miami Heat second round matchup.
Raptors players and coaching staff avoided any suggestion of league skullduggery but the underdog mentality hung over the arena.
The Raptors displayed plenty of playoff jitters in Game One and still appeared a little nervous again on Tuesday as the Nets raced in front 8-1.
By the end of the first quarter the Raptors had taken control of their nerves and a 21-19 lead which they extended in the second taking a 45-39 advantage into halftime.
The Nets battled back to pull in front 66-64 after three quarters but could not fend off a determined Raptors fight back as DeRozan dropped back-to-back jump shots with less than three minutes to play to put Toronto ahead 89-85.
The All-Star guard then went six-for-six from the foul line to help clinch the win.
"I thought DeMar DeRozan tonight refocused, he got five fouls and that shook him a little bit but he bounced back, refocused," said Casey.
"Making those free throws down the stretch was huge, for him to come through after a tough first game, everyone doubting him.
"I was really happy with that."