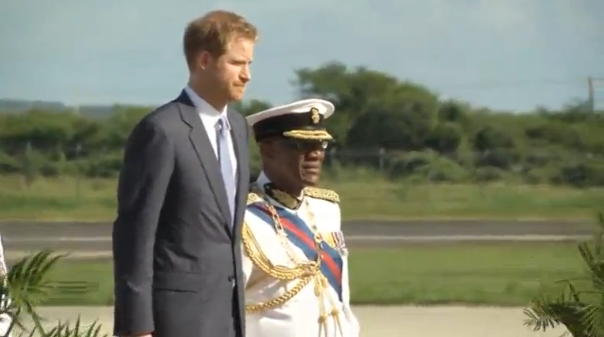 ST. JOHN'S, ANTIGUA AND BARBUDA (Reuters) —  Prince Harry arrived in Antigua and Barbuda on Sunday (November 20) for the first stop on his tour through the Caribbean Sea.
He was greeted on the tarmac of V.C. Bird International Airport in St. John's by a local delegation, including Prime Minister Gaston Browne and Foreign Affairs Minister Charles Fernandez.
The Antigua and Barbuda Defense Force military then held a parade in his honor, during which Prince Harry inspected the Guard.
His first stop will include a welcome reception by the Governor General Rodney Williams, a sports festival at the famed Sir Vivian Richards Stadium and a visit to one of the largest colonies of Frigate birds in the world.
The rest of his trip includes stops in St. Kitts and Nevis, St. Lucia, St. Vincent and the Grenadines, Grenada, Barbados and Guyana.