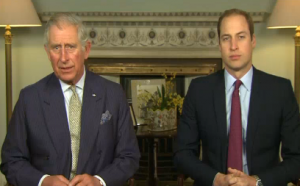 (Reuters) — Prince Charles and his son Prince William have joined forces to create a video message supporting the campaign to stop the illegal wildlife trade.
The release of the video on Sunday (February 9) marks the start of a week of activities by the Prince of Wales and Duke of Cambridge to highlight the devastating effects of the trade.
They talk about the unprecedented levels of killing of endangered species, such as elephants, which are killed at a rate of 100 per day.
Prince Charles says in the video, which was recorded in November: "We have come together, as father and son, to lend our voices to the growing global effort to combat the illegal wildlife trade – a trade that has reached such unprecedented levels of killing and related violence that it now poses a grave threat not only to the survival of some of the world's most treasured species, but also to economic and political stability in many areas around the world."
Prince William goes on to say: "Despite the terrible crisis that we now face, we both continue to be optimistic that the tide can be reversed. We have to be the generation that stopped the illegal wildlife trade, and secured the future of these magnificent animals, and their habitats, for if we fail, it will be too late."
The video ends with The Prince and The Duke saying the phrase "Let's unite for wildlife!" in Arabic, Vietnamese, Swahili, Spanish and Mandarin in order to be understood by as many people as possible living in the countries most affected by the illegal wildlife trade.
On Thursday (February 13) Prince Charles and Prince William will attend theLondon Conference on the Illegal Wildlife Trade hosted by the UK Government at Lancaster House.
The conference will give leaders from across the world an opportunity to discuss the issue and agree a more coordinated global response to help eradicate the illegal wildlife trade and better protect the world's most iconic species from the threat of extinction. The Prince of Wales will deliver a speech at the conference.
On Wednesday (February 12) Prince William attends the Zoological Society of London's Wildlife Symposium to mark the beginning of the LondonConference.