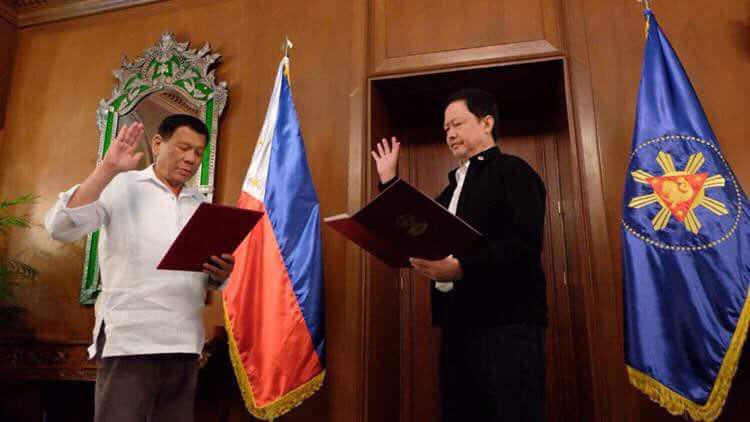 (Eagle News) – Newly appointed Justice chief Menardo Guevarra took his oath as the new secretary of the Department of Justice on Thursday night, April 5, effectively replacing Vitaliano Aguirre II who submitted his resignation letter on the same day.
Guevarra took his oath as the new DOJ secretary before President Rodrigo Duterte in Malacanang.
He said that it was only two days ago that Special Assistant to the President Christopher "Bong" Go had informed him that the President wanted him "to take the Department of Justice portfolio."
"About two days ago, he (Go) was asking if I was interested or if I would consider it," said Guevarra recalling the incident.
He said that it was only later in the day on Thursday, April 5, that he was "formally informed" about the appointment.
"I had a great talk with the president this afternoon and he only had one instruction he gave me — 'Do what is right,'" he said in an interview with CNN Philippines' Ruth Cabal.
He said he would still have to "review first" all the recent happenings in the DOJ that had placed it on the spotlight, including the controversial junking of the case against self-confessed drug dealer Kerwin Espinosa and the provisional placement of alleged pork barrel queen Janet Napoles on the government's witness protection program.
-Priority at DOJ: "House cleaning"-
"I have to review first what had actually happened in the department," he said.
But Guevarra said that his priority is the DOJ's "house cleaning."
"Because the President had instructed me to restore the department to what it was before – a very dignified Department of Justice," he said in the interview.
He said he was actually "quite surprised" with his appointment as he was already "very happy" with what he was doing at the Office of the President as Senior Deputy Executive Secretary.
"We just had a very short talk this afternoon, but it was straight to the point — clean up the house, remove all corrupt people there, and do everything that is right. In other words… just follow the rule of law. You don't have to harass people…," Guevarra said recalling his talk with the President.
He said that he had also "just chanced upon" Aguirre on Thursday afternoon, and he had no idea that he was going to be appointed as DOJ chief later in the day to replace him.
"I just said 'hi' to him, I did not have an inkling that I will be asked to go to the Palace that same afternoon, and he just said 'hi' to me," Guevarra said.
It was Presidential Spokesperson Harry Roque who made the announcement about Guevarra's appointment as DOJ chief.
He said that Aguirre submitted his letter of resignation the same day, Thursday, April 5, and that as soon as the President got it, he accepted it.
The President himself announced that he had accepted Aguirre's resignation on Thursday, in a Palace event.
"I accepted the resignation of Vit Aguirre, my fraternity brother," Duterte announced during the awarding ceremonies of outstanding farmers and fisherfolk in Malacanang.
Prior to this, there had been reports already circulating that he would be replaced as DOJ chief.
Roque had also made an announcement late March that there would be major cabinet changes this April, after the long office break.
Aguirre was a valedictorian when he finished law school in San Beda College in 1971, and was a classmate of President Duterte.  He passed the bar that same year with a grade of 85.25%.   He and President Duterte were also fraternity brothers in Lex Talionis in San Beda.
-Second-placer in 1985 Bar exams-
Guevarra, on the other hand, is a product of Ateneo College of Law who placed second in the 1985 Bar examinations.
He took up graduate studies in Economics at the University of the Philippines after obtaining his A.B. degree, Major in Political Science, from Ateneo de Manila in 1974. He worked as staff economist at the National Economic and Development Authority and the Bangko Sentral ng Pilipinas, and took up law in the evening at the Ateneo.
His first job as a lawyer was with the technical staff of the 1986 Constitutional Commission.
He then joined a well-known law firm in Makati and formed his own law partnership in 1990.
Until April 2015 Atty. Guevarra was in-active private law practice and faculty member of the Ateneo School of Law.
He was appointed as a member of the 2010 Philippine Truth Commission, and then as Deputy Executive Secretary for legal affairs at the Office of the President in May 2015. In February 2016, he was appointed as Commissioner of Philippine Competition Commission.
His areas of specialization are in Civil Law, Criminal Law, and Administrative Litigation.
He took his oath as Senior Deputy Executive Secretary on June 30, 2016 during the mass oath-taking of the new officials of the then newly-installed Duterte administration.   (Eagle News Service)