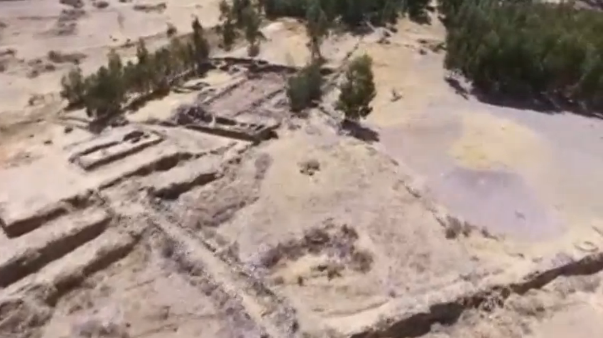 ANCASH REGION, Peru (Reuters) — A newly uncovered pyramid structure in central Peru could upend the way researchers have thought of the area regarding its importance in Incan hierarchy.
After a year of investigation, researchers say they believe the structure is what is known as an "ushnu."
Ushnus are terraced pyramid structures researchers believe were used by ancient local rulers during some of their most significant ceremonies in which they drank and gave liquid offerings to the gods. Research indicates they also may have been used for astrological observations, though much is still to be learned about these structures.
The discovery of an ushnu in the Callejon de Huaylas valley about 285 kilometers (175 miles) north of Lima could mean the area carried more weight in Incan society than previously thought.
Previously, the site was thought to be naturally elevated and not a pyramid given that it was covered in thick vegetation.
An archaeologist working at the site, Miguel Aguilar, cautioned that more research was needed to confirm their hypothesis that the site was of significance to Inca civilization.
"Right now we're at the top of the ushnu-style pyramid which we've just registered and which we are identifying as such. You always have to complete deeper excavations to be able to prove the information or for the hypothesis to be 100 percent correct. We're at the part where they would have held the ceremonies of either the Inca or local Curaca (leader), which could have been for a normal Inca family or an elite or noble family, from this part of the Callejon de Huaylas valley corresponding to the Huaylas culture," Aguilar said.
"According to what we've seen, which is the first level that's been worked on, it is pretty much at what would have been the centre of the place. The ushnu is always at the centre because it plays a significant role as far as ideological dominance as well as a role in astronomic observations," he added.
Other evidence suggesting the site was of significance were remains from ceramics from the Recuay culture as well as stone towers dating back as far as 1,000 years before the Incan empire was thought to have reached the specific area.
Researchers believe local traditions were blended with those of the Inca and that the ushnu might have served as the centre of a provincial capital here.
However, it remains unclear whether the ushnu was built before or after the arrival of the Inca.