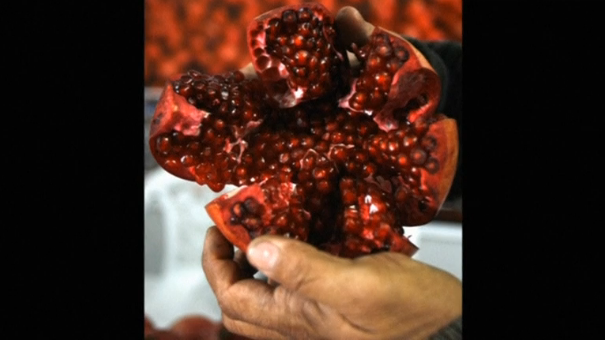 REUTERS — They've long been regarded by many health fanatics as a super food, but now scientists say pomegranates may have anti-ageing properties.
In a study published in the journal Nature Medicine researchers at Switzerland's École polytechnique fédérale de Lausanne (EPFL) discovered that once pomegranate seeds are ingested, a molecule inside them is changed by the microbes in the gut. That molecule helps muscle cells to protect themselves against ageing.
Professor Johan Auwerx, one of the co-authors of the study, told Reuters: "Work in our laboratory discovered a totally new mechanism about how the substances in this fruit work and actually counteract ageing and ageing related disease. It's totally new in the fact that the mechanism exposed is not related to any of the old and known anti-ageing mechanisms."
The pomegranate indirectly helps a process called mitophagy, which is the renewal of old metabolic cells. As individuals age, this process slows down, causing dysfunctional mitochondria in the cells and leading to various problems such as muscle weakness.
Mitochondria are where the cells' respiration and energy production occur. Dysfunctional mitochondria are suspected by some of playing a role in age related diseases, such as Parkinson's.
Inside the pomegranate seeds are molecules called ellagitannins that are transformed inside the gut into urolithin A, although not all individuals possess the right bacteria for this to occur.
According to the researchers, urolithin A is the only known compound that can help restart the recycling processes of mitochondria.
In tests the lifespan of worms fed urolithin A increased by almost 50 percent compared with the control group. In studies on rodents 42 percent of older mice showed superior endurance while running to their counterparts in the control group. Tests suggested that the urolithin had prevented age-related muscle decline in the rats.
"First we tested urolithin in the worm and we showed an expanded lifetime by 50 percent. Then we tested in rodents where we showed that improved endurance by about 40 percent. The fact that it works in two evolutionary distant species makes us believe that we can also see beneficial effects in humans, which is the next step," Auwerx said.
The development of urolithin A could be very significant, according to the team. Human clinical trials are underway and Auwerx believes it could be a powerful anti-ageing compound that provides the kinds of benefits pomegranates do not possess on their own.