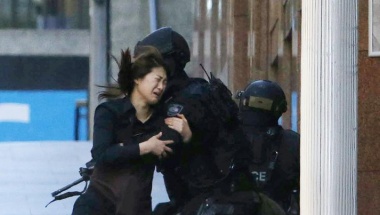 Australian police said on Monday (December 15) they were monitoring alleged demands made on social media by hostages being held in a siege at aSydney cafe but would not confirm what any demands might be.
Network 10 reported that two female hostages had called with claims from the gunman that two bombs were planted elsewhere in the city. Social media posts by possible hostages claimed the gunman wanted to speak directly with Prime Minister Tony Abbott.
Deputy Police Commissioner Catherine Burn declined to comment on any demands from the hostage-taker but said officers were monitoring all channels and urged anyone with information that could help to come forward.
"There is speculation about what he might want but we have to deal with him on the level of police negotiation. We can not be engaged in any speculation but let it also be reassured that we are monitoring all forms of communication, whether that is Facebook or Twitter, for any information that might assist and again I put out that plea and that message that if anybody does have any information please let us know. It's really important that you pass it on because even the smallest snippet of information might be vital."
Burn said negotiators had been in contact with the hostage-taker and the priority was to get the captives out safely.
"The contact that we have will be ongoing and it will be based on our best assessment about how to get those people out safely which is what does count most," she said.
She said people should be vigilant but should go about their business as normal in Sydney.
[Reuters]