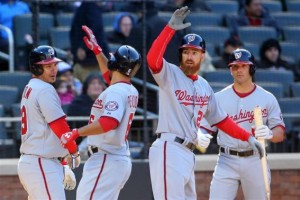 (Reuters) – Opening Day unfolded across the United States on Monday with the promise of warmer days, the familiar scent of hot dogs sizzling on the grill and a batch of surprises in Major League Baseball's annual day of celebration.
Unlikely players gave New York Mets fans hope at chilly Citi Field before the Washington Nationals rescued a 9-7 win in 10 innings with the help of a career-high four runs batted in by number eight hitter Anthony Rendon, including a three-run blast in the 10th.
The Detroit Tigers sent their fans home happy with a 4-3 win after a ninth-inning, walk-off RBI single by 37-year-old Alex Gonzalez, acquired last week following an injury to shortstop Jose Iglesias, off Kansas City Royals closer Greg Holland.
Those were two early contests among 13 Opening Day games across the MLB landscape that signaled a belated end to a long, cold winter for many fans following the Los Angeles Dodgers' two-game sweep of the Arizona Diamondbacks to start the season 10 days ago in Sydney, Australia.
Opening Day is celebrated as something of a holiday for fans, with inaugural contests of each team marked by ceremonies, player introductions and packed stadiums that include children whose parents allowed them to skip school.
The chilly 44 Fahrenheit (7 Celsius) New York conditions gave way to warm cheers as the Mets at first seized the upper hand in a game that featured five home runs.
New York's power came from unexpected sources.
Juggling their lineup after allowing second baseman Daniel Murphy to rush home to Florida on Monday when his wife went into labor, the Mets received a three-run home run by back-up outfielder Andrew Brown in the first inning and a later home run by light-hitting Juan Lagares.
But the Nationals, tipped as favorites to win the National League East, battled back each time.
Adam LaRoche bombed a two-run homer over the corner of the upper deck in right in the second inning, and two runs in the seventh allowed them to tie the game, keyed by an RBI double by Rendon and a spate of wildness by Mets' relievers.
After New York reclaimed the lead on Legares's home run in the Mets' half of the seventh, closer Bobby Parnell failed to shut the door in the ninth.
Needing one more out in the ninth with a man on first, Parnell gave up a walk and then a run-scoring double by Denard Span to send the game to extra innings.
A sacrifice fly by Ian Desmond snapped the tie in the 10th before 23-year-old Rendon's three-run blast.
Mets captain David Wright made it interesting with a two-run homer in the bottom of the 10th, but the comeback fell short.
New York manager Terry Phillips tried to be philosophical.
"It's only Day One of 162," he said about a grueling 162-game regular season that goes on until late September. "We'll get better."
Matt Williams was elated after winning his first game as Nationals manager. "We're feeling pretty good. Our guys played a great game today."
The high-scoring contest obscured two strong performances by the starters.
Washington's Steven Strasburg struck out 10 in six innings while giving up five hits. New York's Dillon Gee was cruising along, having retired 15 consecutive batters before Washington rallied to tie it in the seventh.
The Pittsburgh Pirates beat the Chicago Cubs, also in 10 innings, but in contrasting fashion to the Mets-Nats slugfest.
After nine scoreless innings, Neil Walker belted a walk-off homer off Carlos Villanueva to lead off the bottom half of the 10th, igniting a homefield celebration for the Pirates.
A two-run double by Aramis Ramirez in the fourth inning accounted for all the runs in the Milwaukee Brewers' 2-0 win against the visiting Atlanta Braves.
In a scoreline that looked more like an NFL result, the Philadelphia Phillies, who hit three home runs including a grand slam by Jimmy Rollins, ruined the home opener for the Texas Rangers with a 14-10 victory.