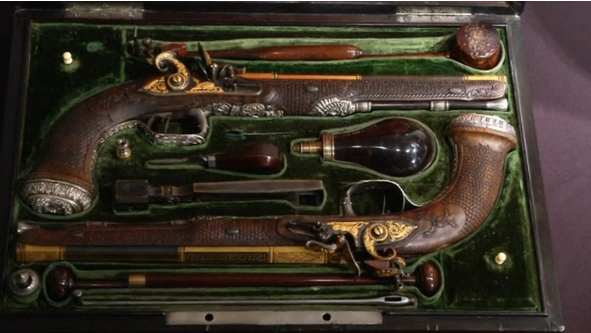 NEW YORK CITY, NEW YORK, United States (Reuters) – An important set of pistols that was gifted to Simón Bolívar from the Marquis de La-fayette is expected to fetch between $1.5 to 2.5 million (USD) when it goes on sale at Christie's in New York.
Christie's specialist Becky MacGuire, said the lot is exquisite and so important because of its history.
"We're very excited to have these pistols they are such a rare treasure. They were given by the Marquis de Lafayette to Simón Bolívar at the height of Bolívar's incredible career and at the twilight of Lafayette's life. It's something you can't really compare to any other work of art. It's not like we sold a pair six months ago. So it's difficult to know where the ultimate price might be," MacGuire explained.
Bolivar was at the peak of his career when the pistols were gifted to him. Before his death at 47-years-old, he liberated six countries in Latin America – Bolivia, Colombia, Ecuador, Pamana, Peru and Venezuela. Perhaps Bolivar's most important legacy was his steadfast adherence to his ideals of justice and dignity.
The pistols were crafted by Versailles by gunsmith Nicolas-Noel Boutet who served as the gun maker to Napoleon. .
"He had access to the best silver workers, gold craftsman of the period, a lot of who had been through a tumultuous time with the revolution but were now working in the Napoleonic court. So he had a full workshop of people crafting the different parts that came together – the carving of the wood, the chasing of the gold and the silver, the inlay of the tiny little gold letters where he has inscribed his name and the royal manufacture at Versailles."
The design is richly detailed with gold-inlaid bands and finely engraved panels of foliage, a dragon and wolf. Each pistol has blued flat bevelled locks each with a roller, gold lined rainproof priming and an engraved iron trigger-plate. The rear ramrod pipes have silver mounts with Medusa masks, pommels each with Hercules masks and side-plates depicting the mythical fight between the Centraurus and Lapiths at the wedding feast of Peirithous.
The pair of pistols will be part of The Exceptional Sale, which features European and American decorative arts. Other lots include furniture, glass, porcelain and carpets. The sale will be held on Wednesday, April 13th