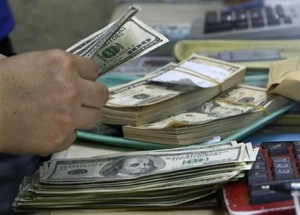 (PNA) –The peso gained P0.10 to a dollar Monday (April 7) after investors noted the lower-than-expected growth of non-farm payrolls in the United States in March 2014.
It ended the day at P44.84 from P44.94 last Friday after the market noted the 192,000 increase in non-farm payroll for the third month this year, which the U.S. Bureau of Labor Statistics' reported Friday last week (Friday night, Manila time).
The growth of non-farm payrolls last March was lower than the 197,000 new jobs last February.
Thus, the local currency opened better at this week's first day at P44.85 from P45.05 in the previous trading.
It traded between P44.91 and P44.84, bringing the day's average to P44.86.
Volume of trade reached US$ 771.7 million, higher than the US$ 664.2 million at the end of last week.
A trader said strong foreign equity-related flows to the local bourse also contributed to the positive close of the peso.
The Philippine Stock Exchange index (PSEi) ended the day with 0.81 percent or 53.20 points increase to 6,614.40 points.
Most of the sectoral indices tracked the main index except for the mining and oil and property indices.
Volume of trade reached 726.12 million shares amounting to P6.95 billion.
For Tuesday, the peso is expected to trade between P44.90 and P45.10. (Philippine News Agency)