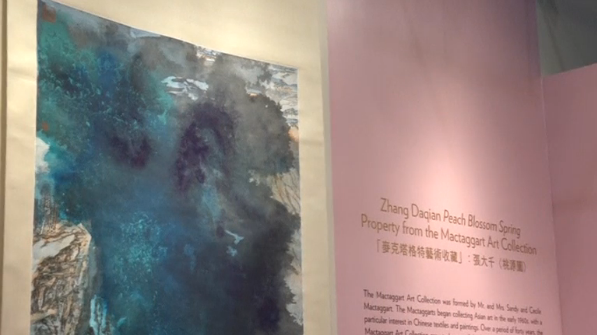 HONG KONG, China (Reuters) – A painting by Chinese artist Zhang Daqian sold for nearly $35 million (24.54 million pounds) at an auction in Hong Kong on Tuesday (April 5), the most one of his works has ever fetched, underscoring strong demand for quality Chinese art despite an overall slowdown in the market.
The two-meter (6.5 feet) long scroll inkbrush painting "Peach Blossom Spring" more than tripled its expected price at a spring Sotheby's sale to fetch HK$270.7 million ($34.91 million), including the buyer's premium.
Bidders battled in a packed room before the hammer came down after a tense 50 minutes, making it one of the longest auctions seen by Sotheby's in recent years. It was the most expensive Chinese painting sold at Sotheby's in Hong Kong.
"All done, new world record price, Zhang Daqian, 240 million dollars, ladies and gentlemen, to Kevin Ching's bidder. Fair warning then, C.K. it's against you. 240 million. Fair warning. Sold at 240 million dollars," said Sotheby's deputy chairman, Quek Chin-Yeow, from the block.
The winning bid was placed by the Long Museum in Shanghai, founded by Chinese tycoon Liu Yiqian and his wife Wang Wei who have over the past few years splurged on some of the world's most expensive Chinese and Western artworks including Modigliani's 1917 "Nu couché" (Reclining Nude) for $179 million.
Kevin Ching, chief executive of Sotheby's Asia, said the 1982 work was monumental and deserved the valuation.
"Sotheby's is very pleased and very excited to have sold the Zhang Daqian painting behind me for over 271 million Hong Kong dollars which was in fact is 100 times what we sold it for back in 1987 when we sold it for 1.8 million Hong Kong dollars. It took us 50 minutes, over 50 minutes, 100 bids to get to that hammer price which was itself is a record for Hong Kong auctions in Asia," said Ching.
"Well the painting obviously is very well documented, and is monumental, and the colours are absolutely vibrant, and one of the greatest works of Zhang Daqian. And probably one of the two or three most important works available now in private hands," Ching added.
Zhang Daqian (1899-1983) is widely considered one of the greats of Chinese painting in a prolific career that spanned stints in Argentina, Brazil, California and Taiwan.
The sale of the impressionistic landscape of peach blossoms and towering turquoise mountains with a poetic inscription, comes at a time of sluggish global art sales due to slowing growth in China, the world's second largest economy, and buyers growing more selective.
Global sales of art fell seven percent year on year in 2015 to $63.8 billion, while sales of art in China fell by 23 percent in the same period, according to the TEFAF Art Market Report.
Ching said the market was showing signs of recovery.
"And this I think goes to prove that the general art market and the general economy, basically the general economy is not a predictor of the art market. And the art market is now showing every sign of great strength and great recovery," he said.
Buyers are also failing to pay up for their pieces with more than a third of lots sold for over 10 million yuan ($1.55 million) last year not paid for and only a quarter partly paid for, according to the Chinese Auctioneers Association.
Interest in art, however, continues to grow in China with Art Basel's Hong Kong fair of mostly contemporary and modern art seeing 70,000 visitors over the five-day event last month.