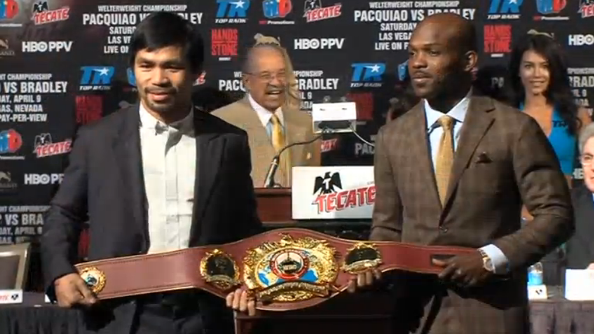 LOS ANGELES, CALIFORNIA, United States (Reuters) – An emotional Manny Pacquiao and his opponent Tim Bradley held their final news conference ahead of their WBO welterweight title fight on Saturday in Las Vegas.
Pacquiao, 37, and Bradley, 32, will meet on April 9 at the MGM Grand Garden in Las Vegas, the venue for their two previous encounters. Pacquiao, who was controversially beaten by Bradley when they first met in 2012, gained revenge in their 2014 re-match, scoring a unanimous decision win to regain the WBO welterweight title. Pacquiao has said in the past that this will be his final fight but appeared to have pulled back from that assessment in recent comments.
"You know my life. My life before I came from nothing. The boy that's speaking in front of you now. I experienced sleeping in the streets with no food. Sometimes I'm hungry. We didn't have food. I just drank water to survive and that's my life. How god transformed my life into this level of life. That's why I'm excited and thankful to God for everything he gave to me."
Pacquiao, who has won world titles in six weight divisions, is currently running for senator in the Philippines.
"This press conference…promoting the fight. We don't need to fight each other. We will save that for Saturday and that's what you're waiting for. This is good fight because promoting the fight with no argument, with no throw balls, hitting each other with bad words. We'll save that for Saturday so that you will be happy. You know Bradley trained hard and we trained hard and that's good for the fans."
Bradley, for his part, is confident the time is right for him to earn a decisive win over Pacquiao.
"For me this is a legacy fight. Getting a third crack at it. I'm ready and If I'm going to win this fight it's now. It's now. I'm ready for everything. More than any other fight that I've ever been in. If I'm going to beat Manny Pacquiao it's now. This is my only opportunity and my last opportunity and I'm ready for it. Thanks you very much. God bless," Bradley said at Wednesday's news conference.
This is Bradley's second fight with new trainer Teddy Atlas. He stopped Brandon Rios in the ninth round of a fight in early November.