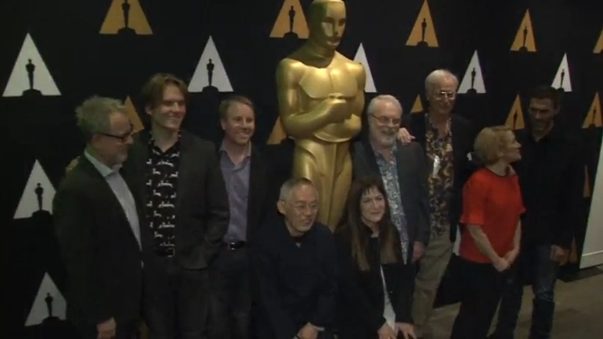 BEVERLY HILLS, California, United States (Reuters) — Animation has proved to be big business in Hollywood with animated films ('Finding Dory,' 'The Secret Life of Pets,' 'Zootopia' and 'Sing') taking four of the places in the top ten of 2016's US box office.
At The Academy of Motion Pictures Arts and Sciences, the headquarters of the Oscars, an event was held to celebrate this year's nominees in the Animated Features category on Thursday (February 23), where the filmmakers discussed why they believe animation is more popular than ever.
"I think some amazing storytelling is happening in animation right now," explained 'Zootopia's producer Clark Spencer.
"I think we are saying to the audience that this isn't just for families with kids, this is for people of all ages. When you're looking at a movie like 'Zootopia' which is talking about stereotyping and bias, that's a pretty big subject to put in an animated film. But if we're going to reach all ages, we should talk about those kinds of topics, but put in entertainment, have a sloth work at the DMV and let it entertain the kids also, so I think that's one of the elements that really worked on this film," he said.
'The Red Turtle' saw Japanese-acclaimed animation house Studio Ghibli team up with Dutch British director Michael Dudok de Wit. Although de Wit was absent from the evening, the film's producer Toshio Suzuki from Studio Ghibli shared his opinion on what makes an animation successful.
"You can't make a good film with just money and time," he said.
"I think the other thing that's important is that we all live as history progresses so to have the vision to know what would be good for this period of history, what kind of animation would work in our times. That's very important, so I think attention to the period and the age in which we live is a crucial point," he added.
Director Travis Knight has his second Oscar nomination for 'Kubo and the Two Strings.' He was keen to point out that there is little difference between a live action film and an animated one.
"The one thing that makes animation more broadly appealing potentially is that animated films are geared toward families so if you do that in a way, you hit all demographics. If you're doing it properly, you're engaging the kids, you have layers for teenagers, you have something for adults and young adults, you have something for parents and for older people and that's the way we try and approach our films where we can appreciate it on one level as a child but then we try to layer it with degrees of sophistication and thought-provoking material so there is something to be enjoyed by all audiences, he said.
He noted that the best animation films "have something to offer for everybody and I think that's why they've been so successful."
'Moana' director and writer Ron Clements said that animation in itself is what makes great storytelling.
"These kinds of films take a long time to do," he said.
'Moana,' he said, took five years to do "but because of that I think there's a richness, like you can see the film multiple times and find deeper and deeper meanings within it and I think that just comes out of the process and the amount of care and research and talent that is put into these movies."
In the past four years, four animated films have crossed the $1-billion mark internationally – 'Frozen,' 'Minions,' 'Finding Dory' and 'Zootopia.'
The Academy Awards will be handed out at the Dolby Theater on February 26, Hollywood's highlight of the awards season.