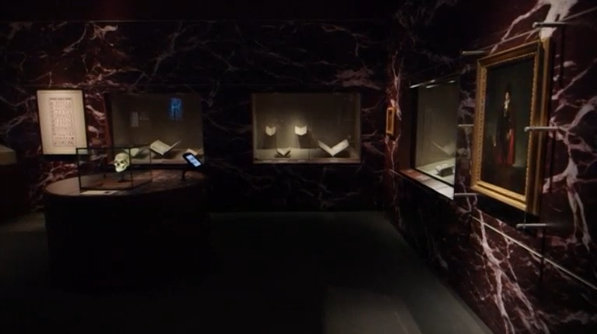 LONDON, ENGLAND, UK (Reuters) – From a dress worn by Vivien Leigh to play Lady Macbeth to a "Hamlet" script owned by famous British actors, a new exhibition explores how William Shakespeare became "the Bard" 400 years after his death.
"Shakespeare in Ten Acts" looks at 10 key performances of his works, from the first showing "Hamlet" at the Globe theater around 1600 to a contemporary version of that play in the digital age.
The exhibition opens at London's British Library as theater fans prepare to mark the anniversary of Shakespeare's death on April 23, 1616.
"It's really difficult to do full justice to Shakespeare's legacy over the last 400 years," exhibition lead curator Zoe Wilcox said in a British Library video handout.
"We're not just looking at Shakespeare the man or his most famous plays, we're focusing in on 10 significant performances of his work that tell us something about the way that his plays have been constantly reinvented through the ages."
Highlights include the only surviving play-script in Shakespeare's hand where he writes about the plight of refugees and a poetry-inscribed human skull given by writer Victor Hugo to actress Sarah Bernhardt, which she used when playing Hamlet in 1899.
Also on display are a "Hamlet" script owned by the likes of Michael Redgrave and Peter O'Toole and theater playbills showing the career highs and lows of Ira Aldridge, the first black actor to play "Othello" on the English stage in 1825, organizers said.
"We have created a really atmospheric, immersive experience that takes you through these 10 acts, every one with a very different look and feel to the one before," Wilcox said.
"We are using the full range of things we have at our disposal to bring them to life, so sound, video, costumes, props, paintings, everything we can to give people a sense of what those performances would have felt like had you been attending them."
"Shakespeare in Ten Acts" runs until September.