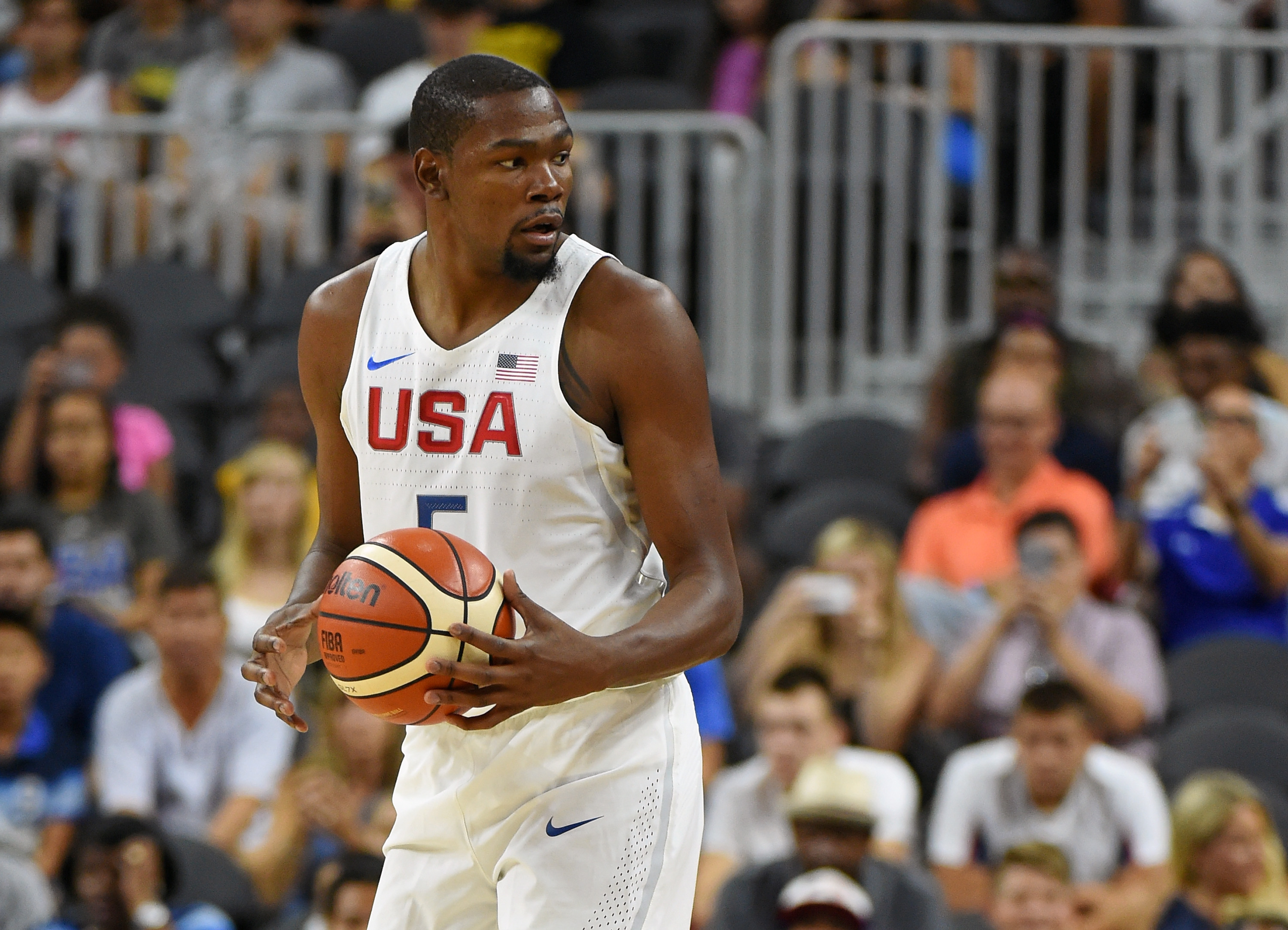 by Jim SLATER
WASHINGTON, United States (AFP) — Kevin Durant is ready for another starring role on the US Olympic team, hoping Rio heroics will relax him after a tumultuous NBA move from Oklahoma City to Golden State.
The 27-year-old forward averaged 28.2 points, 8.2 rebounds and 5.0 assists a game for the Thunder last season, leading them within one win of the NBA Finals.
But in early July, Durant signed a two-year deal worth $53 million to join the Golden State Warriors, the team that ousted Oklahoma City from the playoffs. Thunder fans who once adored Durant were burning his jerseys.
Next season, the 2014 NBA Most Valuable Player will join 2015 and 2016 MVP Stephen Curry on a Warriors team coming off a campaign in which they won a one-season record 73 games and came within one game of a second consecutive NBA Finals crown before losing to LeBron James-led Cleveland.
"It's still a little fresh but being able to focus on this makes it a little easier to get past it," Durant said. "I'm just trying to move on from it and just worry about basketball. I enjoy working. I enjoy getting better and playing. That's what I need to focus on."
Durant, who led the US gold medal effort in London with 19.5 points a game and was second on the 2012 team with 5.8 rebounds a contest, and Carmelo Anthony are the only players on the team with Olympic experience.
James, Curry, Chris Paul, Anthony Davis, James Harden and Durant's ex-teammate Russell Westrbook are among 2012 US Olympians not back for Rio.
With an All-Star team worth of talent sitting home, US pressure to win a third gold in a row and sixth in seven tries with NBA talent is squarely on Durant.
"Anything can happen in basketball. Nothing is ever for sure," Durant warned. "We want to get this gold, but we're not gold medalists right now. We don't have the gold around our necks. Right now we've got a job to do, prepare the right way every day."
Something must be working. After four days together, the US routed Argentina 111-74 in an exhibition game with Durant scoring a game-high 23 points and adding four rebounds, three assists, two blocked shots and a steal.
"We're veterans, we've played the game at the highest level and we know how to adapt," Durant said. "Once you've seen someone after one day, you know what they bring. The good part is just getting to know these guys on a different level. It has been a blast.
"We've got one goal and one goal only and that's to win. You can't put too much pressure on yourself. We love to play this game but we're going to have fun in the process."
Durant hopes US can unite
Amid concern over police shootings of unarmed black men and shootings targeting cops in America and terrorism sparking fear worldwide, Durant said wearing the USA jersey means more and hopefully can be a unifying force.
"We're going through a tough time right now, in the country and also around the world," Durant said. "We can provide that sense of togetherness and unity.
"When we break the huddles, we scream 'united' and that's what we want our country to feel when they watch us play. We definitely want to win a gold medal. That's the most important thing for us as players.
"But we look at the big picture of things and we want people to see how much we love being around each other even though we compete at the highest level. We want that 'united feeling' when you watch."
Thompson still stunned
US guard Klay Thompson, one of Durant's new NBA teammates at Golden State, is excited to have the chance to play alongside him early.
"For a guy who has had so much success in his career and is so young, he doesn't walk around like he's better than anyone else," Thompson said. "That's what makes him so likeable and easy to play with. It's like getting a head start on our relationship.
"It still shocks me that he's on our team. It's unbelievable."
© 1994-2016 Agence France-Presse