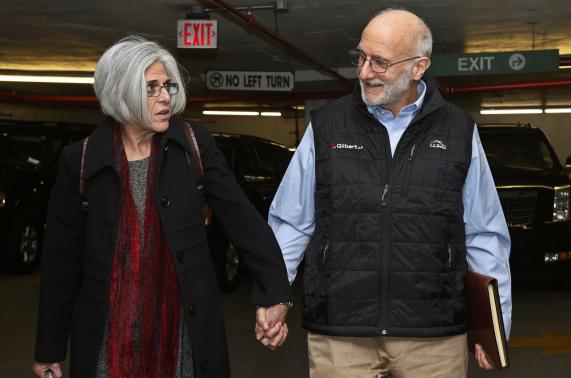 President Barack Obama announced the United States would restore diplomatic relations it severed with Cubamore than 50 years ago, drawing resistance from lawmakers opposed to reconciling with the communist-run island.
After 18 months of secret talks facilitated by the Vatican and Canada, Obama and Cuban President Raul Castro agreed by phone on Tuesday on a prisoner exchange and the opening of embassies in each other's countries.
In a television speech on Wednesday, Obama announced the end of what he called a rigid and outdated policy of isolating Cubathat had been ineffective in achieving change on the island.
Obama said the moves were made possible by Havana's release of American Alan Gross, 65, who had been imprisoned in Cuba for five years.
Cuba is also releasing an intelligence agent who spied for the United States and was held for nearly 20 years, and the United States in return freed three Cuban intelligence agents held in the United States.
At the same time Castro hailed the exchange of prisoners and praised Obama. Known for his low-key style, Castro avoided triumphal statements in his televised address but said the release of the three Cubans was a cause of "enormous joy for their families and all of our people."
Obama said Pope Francis, the first Latin American pontiff, had played an active role in pressing for Gross' release. A sizable part of Cuba's population is Roman Catholic. The Vatican worked closely with both sides and hosted in-person meetings of U.S. officials, senior Obama administration officials said.
The policy shift will mean an opening to some commerce and transportation without ending a longstanding trade embargo. That is codified in legislation and needs congressional approval that Obama said he would seek, but he will likely face a struggle.
While travel restrictions that make it hard for most Americans to visit will be eased, the door will not yet be open for broad U.S. tourism on the Caribbean island.
Cuba and the United States have been ideological foes since soon after the 1959 revolution that brought Raul Castro's older brother, Fidel Castro, to power. Washington broke diplomatic relations with Havana in 1961 and the United States has maintained its trade embargo on the island, 90 miles (140 km) south of Florida, for more than 50 years.
CRITICS CHALLENGE OBAMA
Critics of Obama's announcement said Cuba should not be rewarded when it has not changed.
Former Florida Governor – and potential 2016 Republican presidential candidate – Jeb Bush was cited by USA Today as saying, "I don't think we should be negotiating with a repressive regime to make changes in our relationship."
Although a growing number of U.S. lawmakers favor more normal ties, those lawmakers are still mostly Democrats, and after big midterm election gains in November, Republicans will control both houses of Congress in the new year.
Senator Marco Rubio, a Cuban American Republican, said he would use his role as incoming chairman of a key Senate Foreign Relations Committee to try to block the plan and was committed to doing all he could to "unravel" it.
Whatever the criticism at home, Obama's move was made with the political liberty of a president who, midway through his second term, no longer faces an electorate.
His move could bolster Democratic hopes of retaining the support of Latino voters as the party looks ahead to the presidential election in 2016. Republican candidates seeking to carve out some of the Latino vote may have difficulty arguing against theCuba move.
Americans are largely open to establishing diplomatic relations with the Cuban government, according to a Reuters/Ipsos poll of more than 31,000 adults conducted between July and October.
Around one-fifth said they opposed such a move, while 43 percent said the United States should restore relations with Cubaand around 37 percent said they were unsure.
Reuters