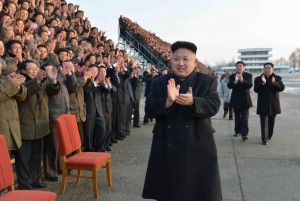 (Reuters) – North Korean security chiefs and possibly even Supreme Leader Kim Jong-un himself should face international justice for ordering systematic torture, starvation and killings comparable to Nazi-era atrocities, U.N. investigators said on Monday.
The investigators told Kim in a letter they were advising the United Nations to refer North Korea to the International Criminal Court (ICC), to make sure any culprits "including possibly yourself" were held accountable.
North Korea "categorically and totally" rejected the accusations set out in a 372-page report, saying they were based on material faked by hostile forces backed by the United States, the European Union and Japan.
The unprecedented public rebuke and warning to a ruling head of state by a U.N. Commission of Inquiry is likely to further antagonize Kim and complicate efforts to persuade him to rein in his isolated country's nuclear weapons program and belligerent confrontations with South Korea and the West.
The U.N. investigators said they had also told Kim's main ally China that it might be "aiding and abetting crimes against humanity" by sending migrants and defectors back to North Korea to face torture and execution – a charge that Chinese officials had dismissed.
As referral to the Hague-based international court was seen as unlikely, given China's probable veto of any such move in the U.N. Security Council, thoughts were also turning to setting up some form of special tribunal on North Korea, diplomatic and U.N. sources told Reuters.
"We've collected all the testimony and can't just stop and wait 10 years. The idea is to sustain work," said one.
"STRIKINGLY SIMILAR" TO NAZI ERA
Michael Kirby, chairman of the independent Commission of Inquiry, told Reuters the crimes the team had catalogued were reminiscent of those committed by Nazis during World War Two.
"Some of them are strikingly similar," he said.
"Testimony was given … in relation to the political prison camps of large numbers of people who were malnourished, who were effectively starved to death and then had to be disposed of in pots, burned and then buried … It was the duty of other prisoners in the camps to dispose of them," he said.
Asked why the report had specifically mentioned Kim, Kirby told journalists: "A great deal of responsibility must lie on such a person. If you are at the center, then you have power to change things."
"I do expect that the report will galvanize action on the part of the international community," he said.
Kirby, asked how many North Korean officials might be guilty of having committed the gravest crimes, replied: "The potential would be running into the hundreds, I would think."
The independent investigators' report, the size of a telephone directory, listed atrocities including murder, torture, rape, abductions, enslavement, starvation and executions.
"The gravity, scale and nature of these violations reveal a state that does not have any parallel in the contemporary world," it said.
The findings came out of a year-long investigation involving public testimony by defectors, including former prison camp guards, at hearings in South Korea, Japan, Britain and the United States.
Defectors included Shin Dong-hyuk, who gave harrowing accounts of his life and escape from a prison camp. As a 13-year-old, he informed a prison guard of a plot by his mother and brother to escape and both were executed, according to a book on his life called "Escape from Camp 14".
North Korea's diplomatic mission in Geneva dismissed the findings. "We will continue to strongly respond to the end to any attempt of regime-change and pressure under the pretext of 'human rights protection'," it said.
The two-page North Korean statement, in English, said the report was an "instrument of a political plot aimed at sabotaging the socialist system" and defaming the country.
Rights violations listed in the document and forwarded to Pyongyang for comment several weeks ago, "do not exist in our country," the statement added.
"DELIBERATE STARVATION"
Abuses were mainly perpetrated by officials in structures that ultimately reported to Kim – state security, the Ministry of People's Security, the army, the judiciary and Workers' Party of Korea, according to the investigators, led by Kirby, a retired Australian chief justice.
"It is open to inference that the officials are, in some instances, acting under your personal control," Kirby wrote in the three-page letter to Kim published as part of the report.
The team recommended targeted U.N. sanctions against civil officials and military commanders suspected of the worst crimes. It did not reveal any names, but said that it had compiled a database of suspects from evidence and testimony.
Pyongyang has used food as "a means of control over the population" and "deliberate starvation" to punish political and ordinary prisoners, according to the team of 12 investigators.
Pervasive state surveillance quashed all dissent. Christians were persecuted and women faced blatant discrimination. People were sent to prison camps without hope of release.
North Korea's extermination of political prisoners over the past five decades might amount to genocide, the report said, although the legal definition of genocide normally refers to the killing of large parts of a national, ethnic or religious group.
North Korean migrants and defectors returned by China regularly faced torture, detention, summary execution and forced abortion, said the report.
Kirby warned China's charge d'affaires in Geneva, Wu Haitao, in a Dec 16 letter that the forced repatriations might amount to "the aiding and abetting (of) crimes against humanity", it said.
Wu, in a reply also published in the report, said the fact that some of the North Korean migrants regularly managed to get back into China after their return showed that the allegations of torture were not true.