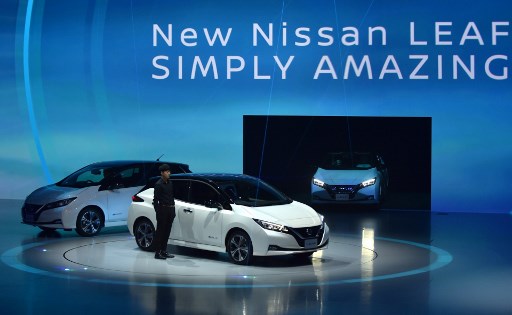 CHIBA, Japan (AFP) — Japanese giant Nissan Wednesday unveiled a new electric car with an extended range and semi-autonomous driving functions, as it seeks to battle off competitors in a sector it once pioneered.
The second-generation Nissan Leaf has a potential range of 400 kilometers (250 miles) between charges, compared with 250 kilometers for its previous version.
It also boasts semi-autonomous driving capabilities such as keeping the vehicle automatically in one lane on the motorway or parking without human intervention.
Hiroto Saikawa, president and chief executive officer of Nissan, said in a statement that the new vehicle "strengthens" the firm's "leadership" in the electric car sector.
Nissan was an innovator in the sector seven years ago when it unveiled its first Leaf — which has sold 280,000 units — but has since had to contend with fierce competition from General Motors and Tesla among others.
Faced with tighter global environmental regulations, most carmakers are investing heavily in the electric car sector, sparking a ferocious race to create the next green vehicle.
The new car will be available next month in Japan, followed by the United States, Canada and Japan in January 2018.
The price tag in Japan will be 3.15 million yen (around $29,000).
© Agence France-Presse