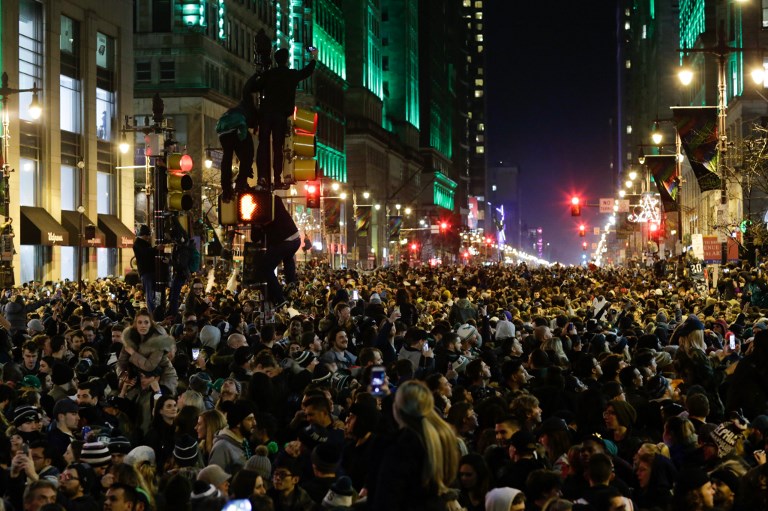 MINNEAPOLIS, United States (AFP) — Plaudits poured out for the Philadelphia Eagles on social media on Sunday after they vanquished the mighty New England Patriots 41-33 to win a first Super Bowl title.
US President Donald Trump — who has had his differences with the NFL during the season — was quick off the mark after the Eagles, led by upstart backup quarterback Nick Foles after a late-season injury to Carson Wentz, defied the odds to deny his superstar counterpart Tom Brady a record sixth Lombardi Trophy.
"Congratulations to the Philadelphia Eagles on a great Super Bowl victory!" Trump tweeted.
Five-time NBA champion Kobe Bryant, a Philadelphia native who has long supported the Eagles, had just one word to say.
"YES!!!!!!!!!!!!" Bryant tweeted. "#EAGLES #SUPERBOWL CHAMPS #PHILLY YES!!!!!!!!!!!!!!!!!"
A video posted on Instagram by Bryant's wife, Vanessa, offered a closer look at the joy of the Los Angeles Lakers icon, who held his toddler daughter in his arms as he watched the game wind down on television, dancing gleefully when the Patriots failed to connect on a last desperate pass and time expired.
Celebrities and regular fans weighed in, with references rife comparing Foles to Rocky — the underdog boxer portrayed by Sylvester Stallone in the 1976 movie set in Philadelphia.
"YO, EAGLES YA DID IT !!!!!" Stallone posted on Twitter, where plenty of images could be seen of the myriad fans pouring into the streets of Philadelphia, as thousands of police officers were deployed in a bid to keep the celebrations trouble-free.