By:  Adrian Manguit, EBC Sports International, Florida Bureau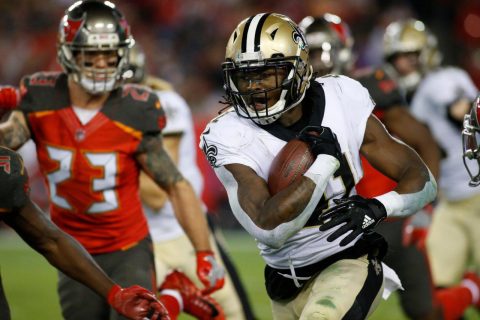 (Eagle News) The best word to describe New Orleans Saints running back Alvin Kamara? Versatility. Kamara's versatility won him the NFL's Rookie of the Year award on Saturday, beating dynamic rookies like Jacksonville Jaguars running back Leonard Fournette, Carolina Panthers running back Christian McCaffrey, and Kansas City Chiefs running back Kareem Hunt.
At the beginning of the season, it was a mystery what Kamara would do this season. He was listed as third string on the depth chart behind fellow running backs Mark Ingram and Adrian Peterson.  Peterson was then traded to Arizona and the rest was history.
"When Mark called me after Adrian got traded and told me it was time to get to work," Kamara explained.  "We just started stringing game after game and getting better and better, and I just knew it was going to be something special."
Kamara was also a Pro Bowl selection, as he led all rookies with 14 total touchdowns and came in second with 1,554 yards.  He joins Pro Football Hall of Famer Gale Sayers as the only other rookie to have five receiving touchdowns, five rushing touchdowns, and a touchdown by kick-off return.  Kamara also led all rookies, including wide receivers, with 81 receptions, third all-time for a rookie running back.  A rookie of great versatility? Yes, indeed. (Eagle News)