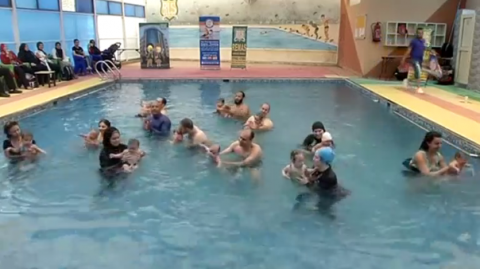 CAIRO, Egypt (Reuters) — Egyptian parents are taking their new-born babies for a swim in novel classes being held in the capital, helping to promote physical education for babies while teaching parents how to handle their children in water.
Held by instructor Mohamed Abdelmaksoud, the classes began in July after he received his certificate in Russia in 2014 and returned to Cairo to continue his career in his home country.
A video he posted on social media soon after his return showed new-born babies swimming and became very popular, prompting requests to run similar classes in the capital.
"There are various methods, some are psychological methods which involve holding and moving the arms in a specific way. If we hold the babies' arms using the wrong method he or she might develop a chronic health condition which might cause the baby to suffer for the rest of his or her life. Our training also helps remove any of the physical side-effects the babies might experience shortly after birth. They usually experience extreme stiffness in the muscles, which makes it very difficult for the child to move quickly. Our training and the methods we use help the babies become more flexible and versatile. This allows the babies to start sitting upright and moving before other babies who are the same age," Abelmaksoud said.
Training can begin for babies as young as two months old, who are initially put into a swimming pool to familiarize them with water.
As the babies get older, more skills are introduced, some of which involve assisted walking in the water. After an initial seven months of training, the babies are left to swim solo in the pool.
Many of the parents were at first too scared to take their babies into a swimming pool.
Heba Helal, who was one of the very first parents to apply to the school, said she was one of those mothers, but quickly became more confident after the changes she witnessed in her son.
"Honestly, it has helped tone his muscles. At the beginning his body was very stiff and his legs were always close to his torso, but now he has no trouble stretching his legs and he is no longer afraid of the water. At the beginning, when we first took him swimming, before we started attending this course, he would constantly cry until we would take him out of the pool. But today he enjoys going into the water and he stays awake because he has become more confident and is no longer afraid of swimming," Helal said.
The exercises help improve overall fitness and quality of sleep.
Ahmed Khalil had always wanted a water birth for his wife, but instead settled for taking his baby girl for swimming lessons and is happy with her progress.
"I feel reassured because I know that she has only completed the initial phase. I'm still required to keep attending for an extended and more frequent period. But now if God forbid she fell into the water, she can hold her breath underwater for around 6 or 7 seconds and she can roughly navigate. During this short period of time you can save the baby before anything happens. Maybe in the near future she will improve because the instructor has mentioned that there are babies who can hold their breath for up to 27 seconds. But right now she can hold her breath for a maximum of 7 or 8 seconds," Khalil said.
Abdelmaksoud currently rents the pool from the centre where the classes take place, but wants to establish his own swimming school.