(Reuters) – A futuristic utopia is divided into five communities, each defined entirely by one personality trait – wisdom, honesty, selflessness, kindness and bravery. But can humans be defined by just one?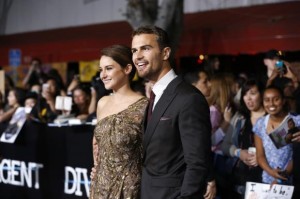 That's the question at the core of new film "Divergent," out in U.S. theaters on Friday. It is the latest movie adapted from a young adult novel
series that features a lead female heroine who goes on an epic journey in a post-apocalyptic, dystopian world where people lead dehumanized lives.
While that premise sounds much like the runaway success "The Hunger Games" led by Jennifer Lawrence, "Divergent," based on the books by author Veronica Roth, hinges on a society that attempts to curb human nature with neurological manipulation.
Lions Gate, the film studio also behind "Hunger Games" and the "Twilight" saga, is hoping "Divergent," with its devoted fanbase, will kick off a new franchise. A second film "Insurgent" is already in the works for 2015.
The young actress leading the franchise is Shailene Woodley, who plays Tris Prior, no ordinary 16 year old.
"I was really inspired by the fact she became an incredibly tough empowered woman, but she didn't start off that way. Her journey, it forced her to examine what she valued most in life," Woodley said in explaining why she wanted to play Tris.
When Tris takes her society's standard aptitude test that is meant to divulge her defining personality trait and thus indicate which faction she should spend the rest of her life in, Tris discovers she is "divergent," a term used to define anyone with multiple defining personality traits.
After growing up in Abnegation, a community that values modesty and selflessness, Tris leaves her family for Dauntless, the brave and fearless warriors who defend the inhabitants of a post-apocalyptic Chicago. But her divergence poses a threat to the faction system.
Woodley, 22, leads a cast of young actors on the rise, including Ansel Elgort as her brother Caleb, Miles Teller as her nemesis Peter, and Zoe Kravitz as her friend Christina. Newcomer British actor Theo James, 29, plays Four, Tris' mentor and love interest, chosen for his ability to embody Four's masculinity and vulnerability.
"He starts off as this very closed off, quite cold, a dangerous person who you don't really know what his intentions are, you don't know if he's good," James said.
Both Woodley and James said they were eager to not let the love story overpower the rest of the film's plot.
"Their relationship isn't built upon the values of being needed to be needed or being co-dependent," said Woodley, who had her breakout role as George Clooney's daughter in 2011's "The Descendants." "They're more partners than they are lovers."
'CLASSIC HERO'S JOURNEY'
"Divergent" comes on the heels of the "Twilight" and "The Hunger Games" franchises, both also adapted from a set of young adult novels and huge hits at the worldwide box office; "Twilight" with $3.3 billion from five films, and "Hunger Games" with $1.6 billion from two movies.
While it is not expected to draw the opening weekend crowds of "Hunger Games," "Divergent" should kick off with a strong $68 million in U.S. and Canadian ticket sales, projects Phil Contrino, chief analyst at Boxoffice.com. That is just shy of the $69.6 million debut for the first "Twilight" film.
Early reviews from The Hollywood Reporter and Variety have been critical, earning a 31 percent score on review aggregator RottenTomatoes.com. But negative reviews are unlikely to detract the avid young fanbase, as "Twilight" had demonstrated.
"Divergent" has drawn the most comparisons with "Hunger Games." Both are set in post-apocalyptic futures, and both feature strong female lead characters who become beacons of hope, something that director Neil Burger was concerned about.
"I almost didn't do the movie because I thought it's too close to the things that have come before," Burger said, adding "I don't want to repeat something that's already been done."
While "Twilight" hooked a youth audience with an attractive young cast playing out a tormented young love story between a vampire, human and werewolf, "Hunger Games" centers on a dystopian future where 24 children are forced to fight for survival and kill one another in a televised sport.
Burger felt that Tris' journey sets "Divergent" apart from its predecessors, including last year's films such as "The Mortal Instruments" and "Ender's Game," both aimed at the young adult audience and both performing poorly at the box office.
"I hope that the audience does think about what would they do in similar situations," Burger said.
"To me, it's an epic; a classic hero's journey."