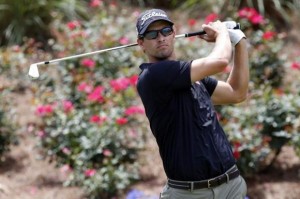 (Reuters) – Adam Scott plans to enjoy being the world's top-ranked player for as long as he can but knows his focus needs to be on golf at this week's Crowne Plaza Invitational in Fort Worth, Texas.
The Australian will be competing in his first PGA Tour event since he dislodged Tiger Woods from the game's pinnacle on Monday, and he was still coming to terms with that achievement when he spoke to reporters on Wednesday.
"It's incredible really to sit here as the number one golfer in the world," a smiling Scott said in the interview room at Colonial Country Club. "I feel I probably downplayed the rankings for the last few months.
"I was trying to take some pressure off myself and just think about playing golf rather than other things that happen from it. Monday morning when it was official I had a better sense of the achievement in becoming number one.
"It certainly means a lot to me and my family and the team of guys around me who spend a lot of time with me."
Scott, who spent 38 weeks as the second-ranked player, had several chances to overtake Woods through high tournament finishes but failed to do so until he seized the top spot on Monday.
The 33-year-old is just the second Australian to become number one, following Greg Norman's final reign which ended in 1998, but he knows his stay could be short lived.
"I am going to have to work pretty hard to stay on top but part of coming here this week was to play as the number one golfer in the world and enjoy it for at least a week," said Scott. "And from there we will see what happens."
The top five players in the rankings are separated by less than a world ranking point and either Swede Henrik Stenson (third) or American Matt Kuchar (fifth) could dethrone Scott this week. Woods (second) and Bubba Watson (fourth) are not competing.
SIMPLE STRATEGY
For his part, Scott has a simple strategy in mind for this week's PGA Tour event, which was won five times by golfing great and Fort Worth resident Ben Hogan.
"I just need to get on with playing golf and enjoy this week," said the Australian. "I enjoyed Monday night, celebrating with some close friends.
"You've got to do that to kind of understand otherwise everything becomes very monotonous and just nothing's great, nothing's bad. And you can't feel like that.
"You've got to go through the highs and the lows. This week is going to be enjoyable but I'm going to just try and get on with playing golf the best as I can."
Scott will tee off in Thursday's opening round in the company of twice champion Zach Johnson and his fellow American Jimmy Walker, the PGA Tour's FedExCup points leader.
Boo Weekley is back to defend the title he clinched by a shot last year to get his name engraved on the Wall of Champions by the first tee.
"It's always fun to be able to come back to a place that you enjoy being around, and the golf course is always set up pretty good for the way I get to play," said American Weekley.
"My game's good. Last week I hit it solid, I just didn't make the putts. I'm hoping this week my putter will get hot kind of like what it did last year."
(Reporting by Mark Lamport-Stokes in Los Angeles; Editing by Gene Cherry)