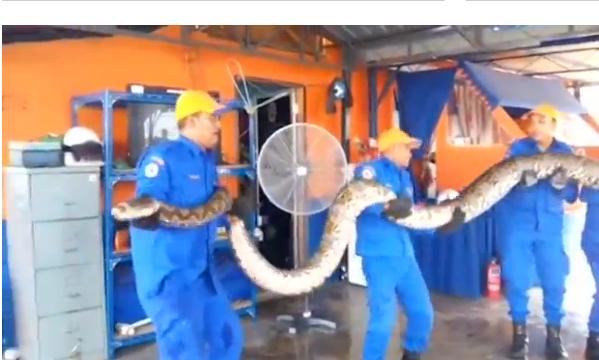 PENANG, Malaysia (Reuters) – A nearly eight-metre long python was captured in Malaysia a few days ago and it may be the longest snake ever to be caught.
The python, which was found last Thursday on a construction site in Penang, could slither its way into the record books.
It was caught by Civil Defence Department personnel after workers from the construction site in Paya Terubong spotted it under a tree and called the emergency services.
According to Britain's Guardian newspaper, the Guinness Book of World Records gives the honour of the longest snake ever in captivity to Medusa, also a reticulated python, who lives in the U.S. state of Missouri. She was measured at 7.67metres in the 2011 edition and still holds the title, which she is now at risk of losing. Medusa is said to weigh 158.8kg, over 90kg lighter than the Malaysian specimen.
The Penang python's length would have to be first verified by the Guinness World Records group.
The reptile is currently at the southwest district civil defence team's office in Sungai Ara, but will eventually be handed to the state Wildlife Department.