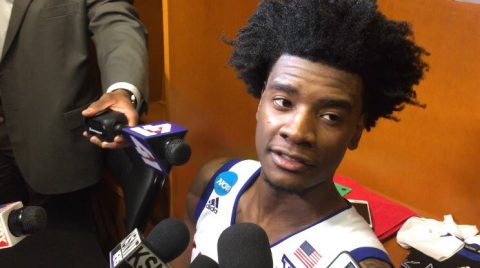 By Josh Tolentino | EBC SPORTS
KANSAS CITY — No. 1 Kansas came out slow in front of a hometown crowd, but the Jayhawks outscored No. 4 Purdue, 51-26 in the second half Thursday to defeat the Boilermakers 98-66 and book their ticket to the Elite Eight Saturday vs. Oregon.
"I thought it was one of the best games we played all year," KU coach Bill Self said. "I thought Purdue was great early obviously and had us on our heels and we knocked down some shots to get us the lead at halftime. But the second half I thought we were great on both ends, shot the ball extremely well, but our activity defensively was what spurred us."
After falling behind 33-25, at the 6:46 mark of the first, KU tied the game at 33 with 5:10 left, while closing the game on a 77-33 run. KU entered halftime with a 47-40 advantage.
"I think we were just excited to be playing in the game against them at first, we came out and I took a bad shot to start the game," said Graham who made 7-of-15 shots. "We were real anxious and they had us on our heels. They were making shots early…so we started loosening up and getting into a rhythm"
The Jayhawks torched the Boilermakers, spreading the ball around efficiently while attacking Purdue's frontline. Kansas shot 54.8 percent (34-of-62) from the field and 53.6 percent (15-of-28) from three, while assisting on 18 baskets. Frank Mason III and Devonte Graham combined for 52 points (26 each), including nine made three-pointers.
"Kansas played really well in the second half," Purdue coach Matt Painter said. "We felt like we should have been in a better spot going into halftime. We had some opportunities in the first half that we kind of let squander away from us and should have been in a better spot, but they were really good."
KU outrebounded Purdue 36-29. Freshman Josh Jackson tallied his 12th double-double of the season, finishing with 15 points and 12 rebounds. With the trio of Jackson, Mason II and Graham having so much success, KU starting center Landen Lucas only played 20 minutes.
The Jayhawks believe playing in Kansas City gave them a huge energy boost — nearly 90 percent of the crowd was dressed in KU blue.
"It's unbelievable," Graham said. "You know playing here in KC is great! The crowd behind us gives us so much momentum and energy throughout the game. It's just great to be here."
Mason III said, "(Kansas City is) 35 miles away from Lawrence. It's basically our backyard and we're just thankful that we had the opportunity to play here and we wanted to take advantage of it and the fans brought unbelievable energy."
Caleb Swanigan led Purdue with 18 points and seven rebounds. P.J. Thompson and Isaac Haas joined Swanigan in double-digit scoring with 12 and 11 points, respectively.
Thompson said, "We knew going in they were going to be a tough match-up and obviously one of the best back courts in the country for a reason. They proved it all year and they had a great game. They really were good from the start of the game…they set the tone for their team and they did a great job."
No. 1 KU will face No. 3 Oregon in the Elite Eight at 7:49 p.m. CT Saturday at Sprint Center in Kansas City.